Hello Blackcomb Peaks Friends!
Are you coming to Whistler in July? If that is the case, we are happy to offer you some suggestions about what you can do here at very little or no cost at all. Also, if you are staying over the weekend, we suggest you visit our Sunday Farmer's Market , as it is a can't miss activity and local's favorite. And definately join the village folks at the Canada Day Celebrations on July 1st & 2nd if you will be visiting then. Families with children will love the Whistler Childrens' Festival, unless you are coming here especially for that occasion on July 7 - 9th. And as for the past 3 years, the Ironman Whistler is hitting the town on July 30th, before the August madness sets in. 

Here Are Your Whistler in July Suggestions:
BIKE IN THE LOST LAKE PARK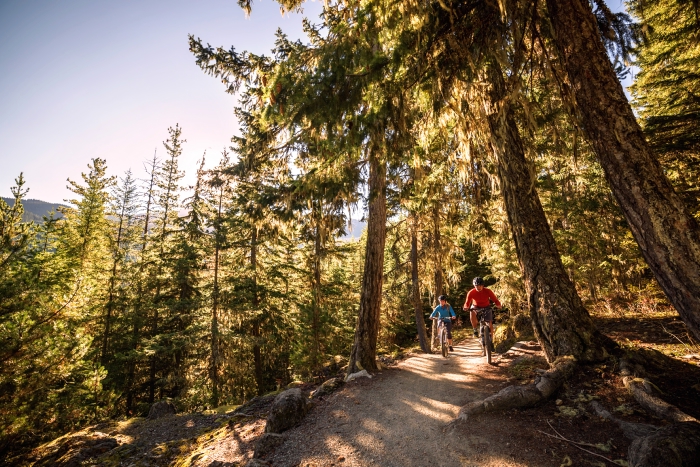 | | |
| --- | --- |
| Photo Credit: | Tourism Whistler/Andrew Strain |
Lost lake is one of the Whistle's favourite places to swim, BBQ and enjoy long evenings in the summer. The one thing that sets it apart from all the other lakes are the amazing biking trails, which actually serve as a lovely Cross County Ski & Snow Shoe area. But back to summer!
Lost lake is super central, only a short walk, or ride, from all village areas. The network of trails offers many biking options for all riding levels (beginner –intermediate), from wide, paved, gentle bikeways to very difficult and challenging single tracks leading through thick trees. Be aware, Whistler trails are considered more difficult then other areas for their high level of technicality. Download the biking trail map HERE.
CANOE / KAYAK THE RIVER OF GOLDEN DREAMS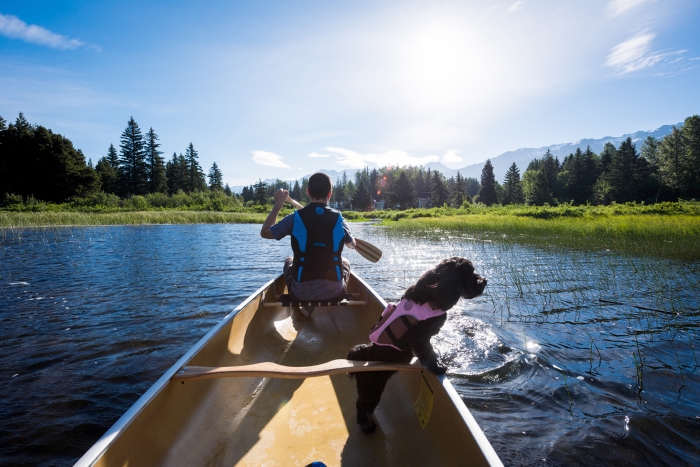 | | |
| --- | --- |
| Photo Credit: | Tourism Whistler / Mike Crane |
The river of Golden Dreams is a short (over 5 km), gentle paced river, connecting Alta Lake at the south and Green lake at the north end of Whistler (3km distance between these two). This easy, scenic paddle takes you through the Whistler wetlands, lush forest, wildflower-lined banks, epic snow-capped mountain vistas, and down a scenic glacier river. You can choose to experience this journey without a guide or on a guided tour. For prices and availability contact our concierge services. 
EXPLORE WHISTLER ALPINE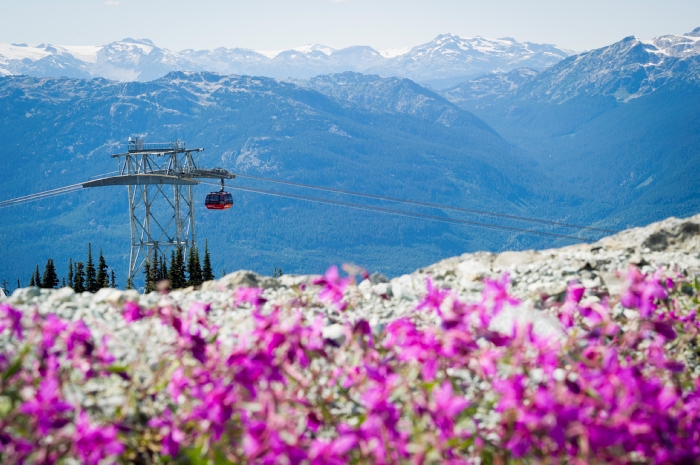 | | |
| --- | --- |
| Photo Credit: | Tourism Whistler / Mike Crane |
One of the many awesome things about Whistler is its versatile nature and the possibilities of enjoying its terrain in all seasons. Winter is, of course, all about the snow fun, but the Alpine in the summer has so much to offer that many locals actually prefer the summer over the winter! The truth is, Whistler Alpine in the summer (May – Sep) is something to be truly excited about.
SIGHTSEE @ The Peak 2 Peak Gondola
(May 27 – Oct 9, 2017) – Enjoy the amazing views of towering peaks, coastal rainforests, and ancient glaciers on this 4.4 km / 2.7 mile, 11-minute longs journey, spanning the distance of  3.024km / 1.88 miles between the Whistler and Blackcomb Mountains at 436m / 1,427f above the valley floor!
Once you are at the top, you need to check out these fun places for free as part of your Peak 2 Peak 360 ticket or pass.
SNOW PLAY ZONE – Experience the thrill of sliding down snow on a sunny summer day!
GIANT SNOW WALLS – Hike the labyrinth of snow walls carved from the abundance of snow received from the past winter. See more HERE. 
GLACIERS – Discover these ice and snow masses formed during the last ice age.
OPEN-AIR CHAIRLIFT RIDES – Dangle your feet in the air and enjoy rides on open-air chairlifts to admire the sights of the Whistler and Blackcomb Mountains.
WILDLIFE & WILDFOWER VIEWING – The biodiversity of the Coastal Mountains is so versatile that you will enjoy the sights of eagles, hawks, pikas, bears, dear, marmots as well as a variety of wildflowers such as white mountain heather, mountain buttercup, alpine fireweed, mountain monkey flower, arctic lupine and so much more.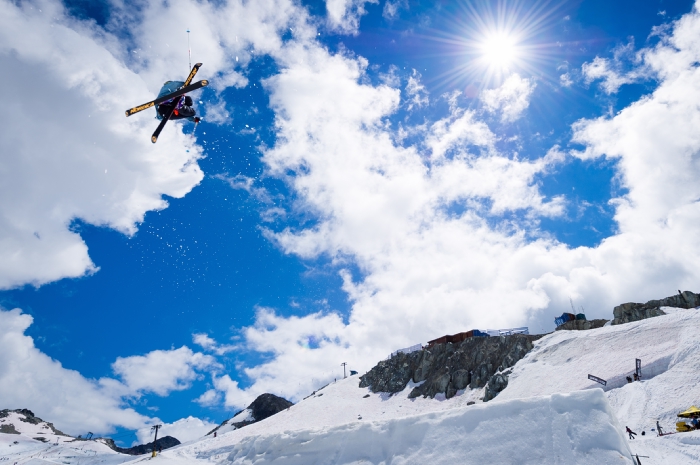 | | |
| --- | --- |
| Photo Credit: | Tourism Whistler / Mike Crane |
BOOK YOUR P2P TICKETS HERE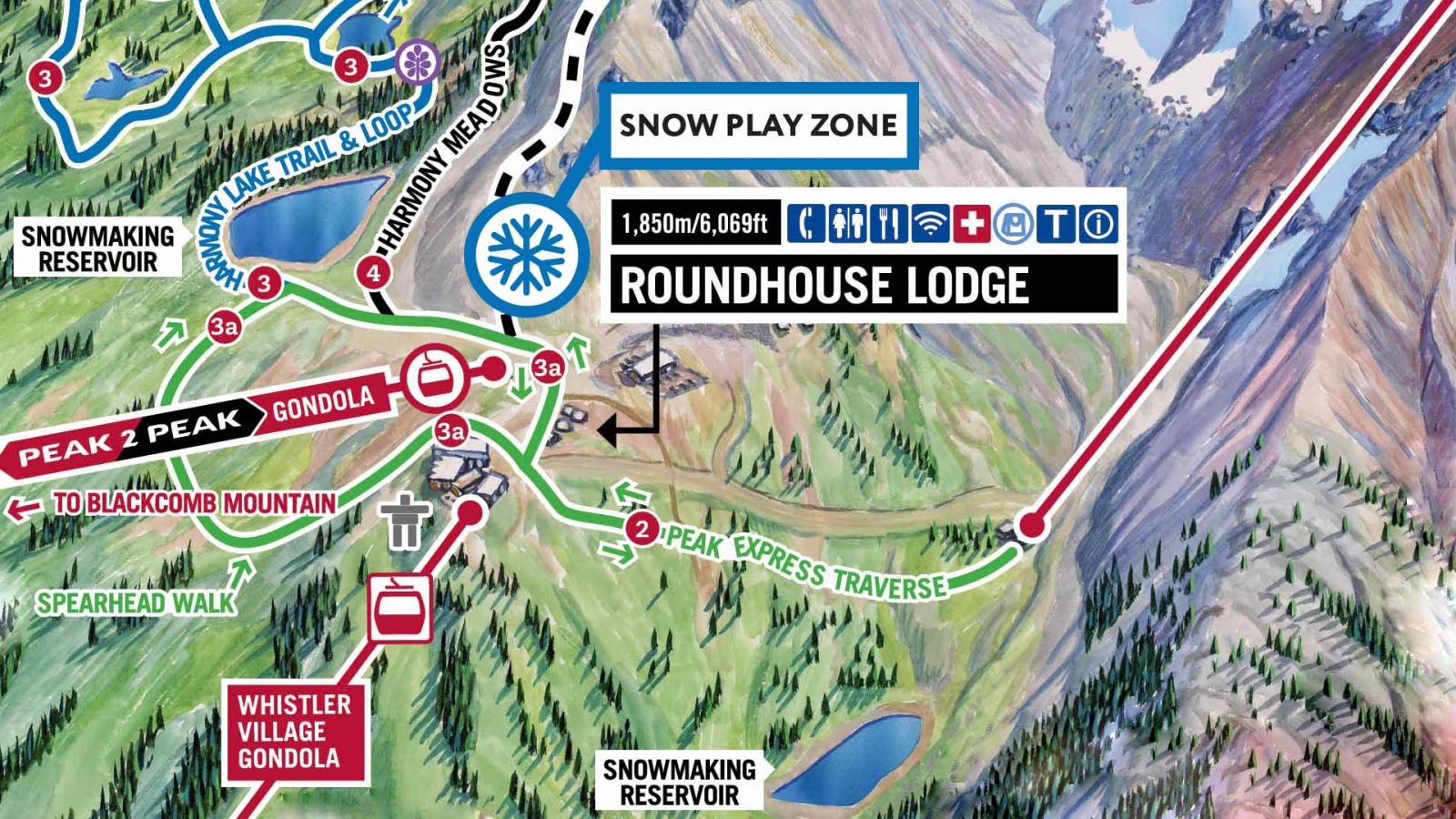 | | |
| --- | --- |
| Photo Credit: | Whistler Blackcomb |