June is an exciting month in Whistler as the transition to summer is completed. Skis are stored away and the bikes come out to play. Whistler in summer isn't just about biking though, there's a whole host of great activities to be enjoyed for anyone visiting Whistler. Some people even say Whistler is a better place to visit in the summer than the winter! Sacrilege in my humble view, but to each their own…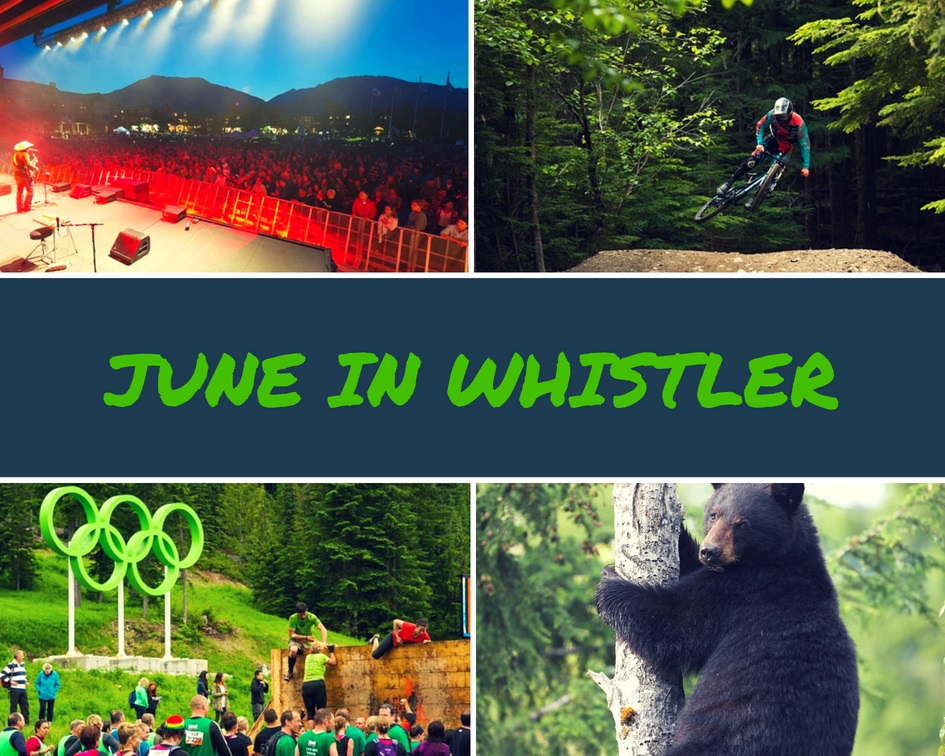 June is an exciting month in Whistler as the transition to summer is completed. Skis are stored away and the bikes come out to play. Whistler in summer isn't just about biking though, there's a whole host of great activities to be enjoyed for anyone visiting Whistler. Some people even say Whistler is a better place to visit in the summer than the winter! Sacrilege in my humble view, but to each their own…
LET ME EXPLORE WHISTLER LODGING OPTIONS 
---
Whistler Bike Park
Whistler Bike Park opens May 17th, 2019. Take advantage of all the great new trails that opened last year! Whistler Off Road Cycling Association also have a host of group events that the nervous can join in on to get a feel of what the mountain bike culture can offer in Whistler. This isn't just restricted to downhill but also the numerous cross-country trails that Whistler offers.
---
Whistler Outdoor Concerts - Vancouver Symphony Orchestra
Once again all of the Series will be at everyone's favorite price: free!! The concerts kick off on May 17th with artist Corb Lund, and we'll post the June schedule as soon as it's published. And one of last year's biggest acts, Vancouver Symphony Orchestra, will be playing July 1st. It will be another amazing opportunity to experience a symphony under the stars with snow-capped mountains as a backdrop. 
July 1st - Performance by the Vancouver Symphony Orchestra @ 8:00 pm at Whistler Olympic Plaza
SEE THE FULL LIST OF FREE CONCERTS THIS SUMMER
---
Whistler Mud Run | Tough Mudder June 15-16, 2019
The Whistler Tough Mudder series is back in June 2019. If your average marathon isn't enough then the Tough Mudder is for you. Participant's on the 10-mile Tough Mudder course wade through waist-deep mud, crawl under barbed wire, submerge themselves in ice water and jump through fire. Tough Mudder is the ultimate test of strength, stamina, mental grit and camaraderie. It's almost as much fun for spectators as those taking part! This year there is also a new category, the Tough Mudder 5K!
---
Bear Viewing Tours May 1 - Oct 30, 2019
The bears have crawled out of their hibernation holes and are out and about in the Whistler area. Throughout the month of June, Whistler offers 3-hour tours for those wanting to get a glimpse of these magnificent animals. The June tours start at 7:30am, 12pm, and 6pm. After all, no trip to the West Coast is complete without being able to boast about your close encounter with a black bear!
---
Family Adventure Zone 
The Family Adventure Zone at the Blackcomb base offers numerous fun activities for all ages. The kid's excitement will be uncontrollable and the adults will scarcely be able to hide theirs. Whether that means speeding down the 315-meter luge track, flying high on the Kiss the Sky Bungy Trampoline or slowing things down with a horseback ride on Blackcomb mountain there is something for everyone at the Family Adventure Zone. Be sure to check it out with the whole family and you won't be disappointed! 
The Nintendo Family Adventure Zone is open June 15, 2019 - September 2, 2019. Check today for latest updates by Whistler Blackcomb.
---
You May Also Like:
THE FULL LIST OF UPCOMING WHISTLER EVENTS
---
TAKE ME TO THE WHISTLER VACATION GUIDE 
LET ME EXPLORE WHISTLER LODGING OPTIONS 
Images: Mike Crane / Michael Allen at Black Bear Studies