August is always a busy month in Whistler because of the massive festivals, August 5th, 2019 BC day, plus the Whistler presents concert series, Farmer's markets, glacier riding, sightseeing, hiking, mountain biking and so much more.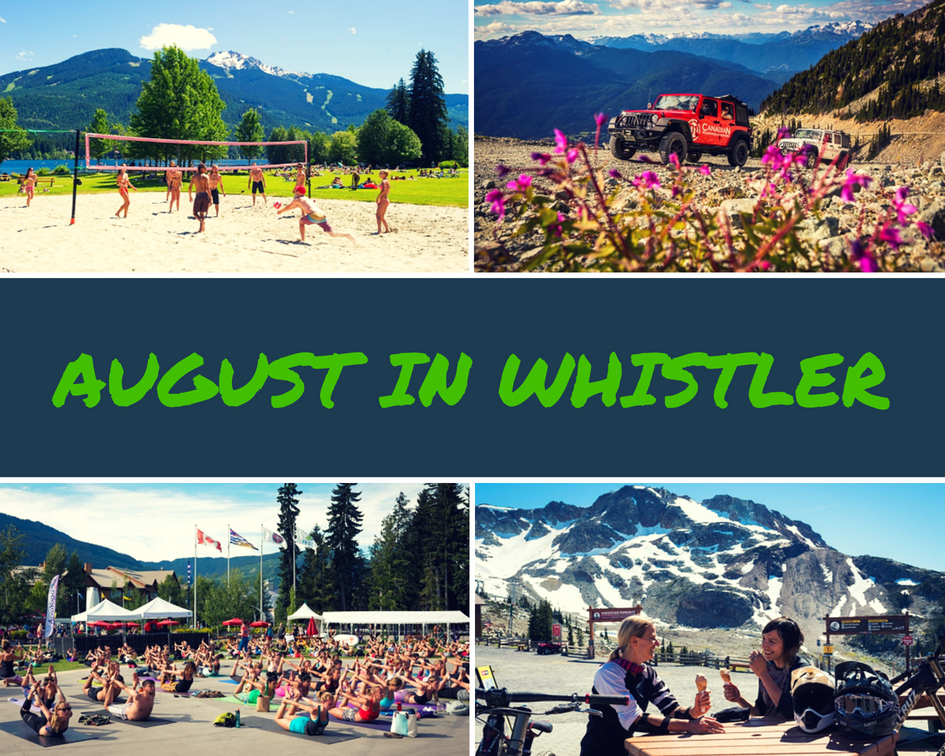 LET ME EXPLORE WHISTLER LODGING OPTIONS
---
WANDERLUST FESTIVAL
The month begins with the Wanderlust Festival, and everyone will watch scarily healthy types carrying yoga mats around and making the rest of us feel slightly guilty. The festival takes place August 1st - 4th and includes live music, various speakers, artists, and teachers. The end of the festival is followed by the first BC day holiday being celebrated. This means not only is the town packed full of Yoga types but there are many families around enjoying the long holiday weekend.
---
CRANKWORX
But there is no time for taking it easy as one of the biggest and best festivals Whistler has to offer is just about to begin. It is quite the turn around as the yoga mats disappear and the mountain bike crowd descends in force. Crankworx is once again a full 10-day festival with some of the best mountain bike riders from around the world in town to compete. Crowds are wowed by the antics in the bike park and also at the base of the mountain. There is also live music as well as video competitions taking place at the Whistler Olympic Plaza.  
---
WHISTLER LAKES ARE AMAZING
August is typically one of the hottest months with daily highs of 27°C (80°F) and with all the Crankworx dirt spreading around, it is nice to tuck away at one of the Whistler lakes. We have 5 of them and you can enjoy your time in many ways from playing cards, lawn games, cooking some tasty BBQ to just resting at one of the floating decks in the middle of the lake.
---
THE FREE OUTDOOR CONCERTS CONTINUE 
The Outdoor Summer Concert Series started in May in Whistler and August will present many more all the way through September. We often get caught up in the outdoor-activity mode in this playground, and hardly take the time to sit and relax. But with these classical & chilled out beats, it is much easier to just sit on a picnic blanket and listen to some quality sounds right at the Olympic rings!  
SEE THE FULL LIST OF OUTDOOR CONCERTS
---
SLOWLY ROLLING INTO SEPTEMBER 
As August edges into September, the 4th annual North Face Valley To Peak Race hits the village on Aug 31st and the RBC Granfondo one week later on Sep 7th. And guess what? The Whistler Beer Festival will traditionally happen as well, this time on Sep 10th, 2019. 
---
You May Also Like:
THE FULL LIST OF UPCOMING WHISTLER EVENTS
---
TAKE ME TO THE WHISTLER VACATION GUIDE 
LET ME EXPLORE WHISTLER LODGING OPTIONS 

Images: Mike Crane / Justa Jeskova