July 1, 2018 -

12:00

to

23:00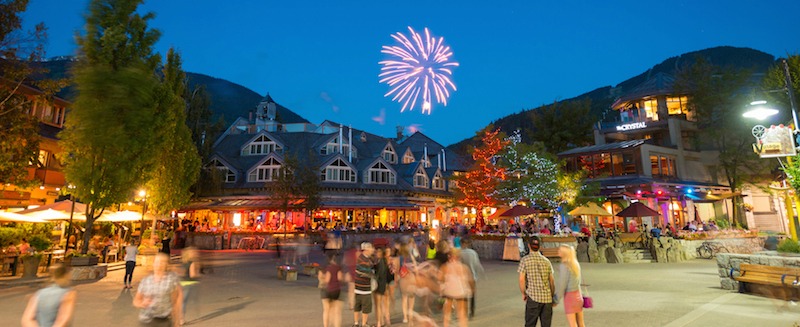 *Photo by Mike Crane
Stay Tuned for the 2018 Schedule, but Check Out the Schedule From Last Year
Canada Day in Whistler is jam packed with fun activities for everyone. This National Holiday falls on July 1 every year, and Whistler celebrates in style with block parties, concerts, a parade, fireworks and more! What better way to celebrate Canada Day than enjoying the natural beauty of Whistler.
Canada Day Parade
July 1 - 12pm
The parade starts at 12 noon and winds through the Village Stroll, with plenty of great viewing spots along the way. Get a glimpse of Miss Blackcomb and Miss Whistler, and marvel at the festive costumes, kids on bikes, mountain police, and more.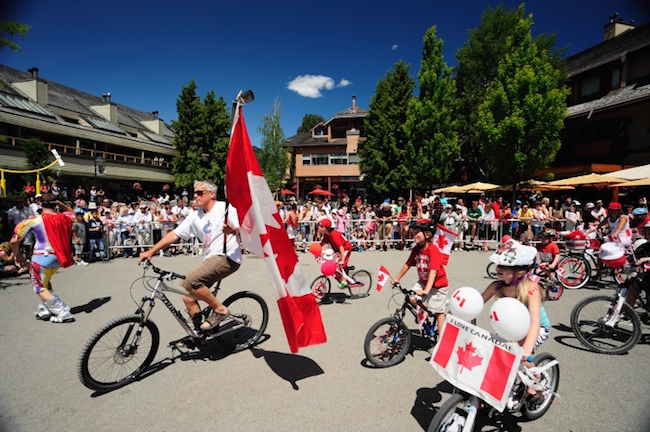 *Photo by Steve Rogers
Dusty's Block Party
July 1 - 12pm - 9pm
Starting at 12pm/Noon, Dusty's Bar & BBQ kicks off the day with a Block Party in the World Cup Plaza. DJ's Peking Duck and SNBRN will be entertaining the crowd with a free show, presented by Monster Energy. The fun goes until 9pm!
Vancouver Symphony Orchestra
It is a real treat when the Vancouver Symphony Orchestra (VSO) comes to Whistler each summer. Students and faculty embark on Whistler for a week and a half of concerts throughout the village, with a final full orchestral concert on the evening of July 5th. But for those enjoying Canada Day in Whistler, there are two concerts this year to enjoy.
July 1 - 2:30pm - 3:15pm
The VSO student musicions - Woodwind Quintet and String Quartet - will play at Roundhouse Lodge at the top of Whistler Mountain. This concert is free to anyone with a Peak 2 Peak ticket or season pass. This open air concert at 6,000ft is something you won't soon forget! The Roundhouse Lodge is doing a BBQ buttet that day as well, so get there early for lunch, and then enjoy the performance.
July 1 - 8:30pm
Enjoy a special Canada Day performance by the Vancouver Symphony Orchestra in the Whistler Olympic Plaza. Bring a chair and a blanket, and a picnic dinner if you'd like, and settle in for a beautiful open air classical performance.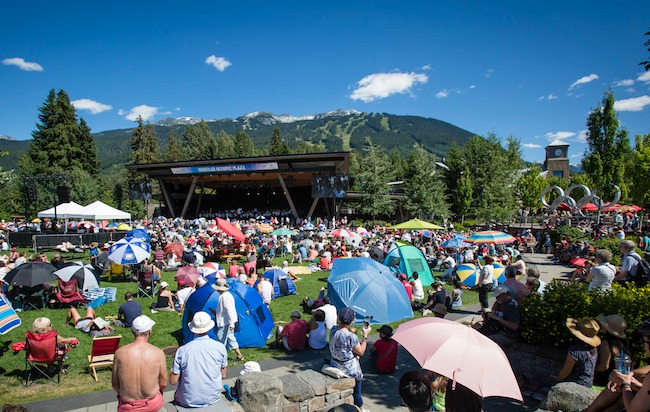 *Photo by Justa Jeskova
Whistler Fireworks Display
July 1 - 10:15pm
Enjoy an incredible fireworks display for Canada Day at the base of Whistler Mountain. The best viewing is from Skiers Plaza. There is nothing quite like seeing the mountain lit up in the night sky with colorful fireworks. A must see and a very festive way to cap off the holiday.