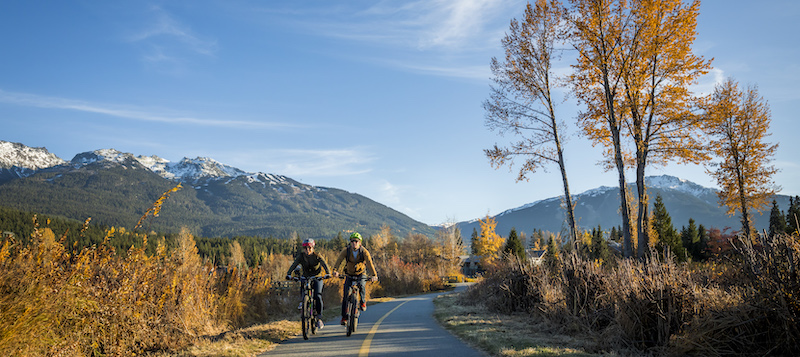 What's your favorite time of year to hit the mountain? From winter through spring, summer and fall, there are plenty of outdoor activities to enjoy in Whistler Blackcomb. 
Ski Season in Whistler
Whistler Blackcomb is one of North America's premier alpine playgrounds. With more than 8,100 acres of ski terrain across two connected mountains, it's a true winter wonderland: 200 trails, 38 lifts, 12 alpine bowls and a vertical mile of skiing. Ski season runs from late November through May, with peak conditions from December through February. But, skiing and snowboarding are not the only activities that provide breathtaking experiences. There's also indoor and outdoor ice skating, sleigh rides, snowshoeing and snowmobiling.
Summer Seasons in Whistler
That's right, we said "summer seasons," as in plural. Some say we have three distinct summers in Whistler Blackcomb. There's the early summer from late May through July where you can still ski and snowboard on the Horstman Glacier where Olympic athletes train. You can also go tubeing on the glacier. Imagine spending a day on a glacier when the temperatures are in the 70s and 80s.
Mid-Summer in July and August offers longer and warmer days. This is the time of year when those wildflowers really pop in beauty, making for some spectacular alpine hiking and biking. There's an array of Whistler festivals and outdoor events to take advantage of the sunshine. Get an unbelievable view of the mountains when you ride the Peak 2 Peak Gondola. 
Warm weather continues through the Indian summer into September when the RBC Granfondo Whistler takes place Sept. 7. Hundreds of cyclists will compete in races that range from 55 kilometers to 152 km. Then the Whistler Village Beer Festival takes place Sept. 10-15, featuring top selections from more than 100 breweries. Access awesome hiking trails on the Peak Express Chair.
Fall Colors in Whistler
Whistler Blackcomb is gorgeous all year 'round. That includes fall, the season between the end of September and the first snowfall. The pace slows down as the leaves turn a myriad of spectacular colors. The Farmer's Market, which starts in mid-June, continues through early October. Enjoy the fall foliage with hiking or biking.
Which season sounds like you? We recommend the mountains any time of year.