Whistler is Back on Top!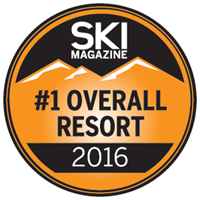 We are so thrilled at the recognition Whistler Blackcomb recently received from Ski Magazine, and it couldn't have come at a better time as Whistler Blackcomb is celebrating its 50th anniversary!
Whistler Blackcomb has been consistently rated one of North America's top resorts, and this year we were awarded with a slew of #1 overall rankings:
#1 Overall Resort
#1Terrain Variety
#1 Aprés
#1 Terrain Parks
#1 Off-Hill Activities
To celebrate this success and share our beloved Whistler Blackcomb with our guests, we thought it would be fun to ask a few members of our staff to share what they love about Whistler.
---
Rebekah: Reservations Supervisor
My husband and I used to bicker about which mountain to ski/ride - I love Whistler Mountain and he's a Blackcomb fan. Our ski days together were made a lot easier with the addition of the Peak 2 Peak Gondola in 2007. We typically head up Blackcomb Mountain in the morning and go straight to the Crystal Hut for their amazing (and famous) waffles. After a morning on Blackcomb, we head over on the Peak 2 Peak to Whistler to either ride Symphony Amphitheatre or find some untouched tree runs. The best days end with a drink at the Dublin Gate!
 
Favorite Blackcomb run: Cloud 9
Favorite Whistler run: Anything in Symphony Amphitheatre or Goat's Gully
---
Dave: Maintenance & Quality Control
My girlfriends and my favorite runs are Ridge Runner (into Twist and Shout when the conditions are good), and the 7th Heaven area (TREES!) when it's sunny and snowy. I'm particularly fond of touring (back country split boarding) and for the guests that are able are experienced skier/snowboarders, the Musical Bumps area out from Symphony Amphitheater is my go-to slack country spot.
Our two main tips for visitors would be:
1) If you're looking to get fresh tracks, be aware that if you go out on a powder day, you'll need to wake up at 3am to get to the front the queue. People are often shocked that there is a 300m (snaked!) queue 2 hours before the lifts open!
2) If stopping for a warm lunch on the mountain, a) bring your own food and hot chocolate sachets and use the microwaves and hot water / cream provided and b) do it before or after the normal lunchtime rush, so that you're not fighting for a seat! Also, if you do bring a packed lunch, then eating while taking a trip over on the Peak 2 Peak Gondola is a fairly special experience, (so much so that last summer, Bearfoot Bistro did a special 5-course gondola dining experience for the bargain price of about $750 per person!).
Rendezvous Lodge at the bottom of Glacier Express on Blackcomb was just renovated this summer and should be a nice spot to enjoy lunch this winter. From Whistler Blackcomb: the renovation includes "customizable menu options in the food court, including Japanese ramen bowls and a Thai inspired wok station where flavourful rice or noodle dishes are finished with authentic sauces and garnishes. The Mexican Taqueria will offer made to order burritos, tacos and salads; and the grill is serving up naturally raised, hormone and antibiotic-free chicken and beef burgers, Ocean Wise salmon sandwiches, as well as a plant-based option." YUM!
---
Mike Wiltshire (Snowboarder): Reservations Agent
My favorite run is Bark Sandwich (Black Diamond) on Blackcomb Mountain. Off the Solar Coaster on the way to Easy Out, it's a gladed run that always seems to have powder. It's tight and technical. Watch out for trees!
---
Eva: Reservations
I love riding Whistler Mountain mainly because of the 7 kilometres long Peak to Creek run. It is a "sugar & whip" experience as I like to call it. Let me elaborate – well, it attracts you with its 5,020 feet height and spectacular views (sugar) - then you get a lot of wind kisses & body chills as you make your way up on the Peak chair (whip) – then you can't wait to get warmer which doesn't take long (sugar) - and before you know it, you feel a hot burn all over your body as you lean into the run (whip) – and finally, it directs you right into the Dusty's Pub for a well deserved pint! (sugar) – yeeeee!
Also, when I feel like getting away to be inspired, the Callaghan Valley cross country skiing park does it for me. I like to skate ski my way all over the 47 km land of groomed tracks, which soothes my eyes & soul for its spectacular wilderness surroundings. It also is the right music for my ears – ooooohhh precious silence.
From there, I like to make a stop at my guilty pleasure, Purebread Bakery either in Function Junction or at the Medal's Plaza in the Village. Their work is truly delizioso! My top three picks there are the almond chocolate croissant, shredded coconut macaroon and a piece of crack! Yeah, a sugar brick called "the crack" – that will get you back on your feet for sure!
Stay With us For Whistler's 50th Anniversary