Whistler is proud to host the 25th annual Whistler Pride and Ski Festival, one of the biggest and best gay and lesbian ski weeks in North America. The LGBTQ pride week features a packed events schedule of skiing, snowboarding, parties, arts and culture and social events.
EVENT DETAILS
Dates: January 22 – 29, 2017
Locations: Various Whistler Village locations and on-mountain
Website: gaywhistler.com
Hashtags: #WhistlerPRIDE #whistlerpride25
TICKETS
Tickets to individual events and passes are available online, by phone at 1.604.274.0767, or at will call.
Guest must be 19 years of age and up to purchase tickets.
Valid official government ID is required and must be presented upon request.
Tickets are non-transferable. Legal name must be on tickets.
GUEST RELATIONS AND WILL CALL
Location: Aava Whistler Hotel
HOURS:
January 22 - 2:00 PM – 8:00 PM
January 23, 24, 25 - 8:00 AM – 6:00 PM
January 26 & 27 - 8:00 AM – 8:00 PM
January: 8:00 AM – 6:00 PM
January 29: 10:00 AM – 1:00 PM
7TH ANNUAL PRIDE SKI PARADE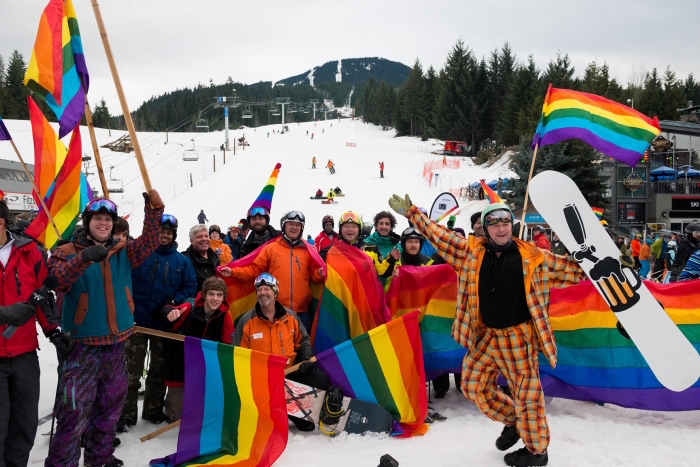 *Photo by Mike Crane / Tourism Whistler
Date/time: January 27 3:00 PM – 4:00 PM
Location: The Pride Ski Parade starts at Whistler Mountain Midstation at Olympic Run to Skiers' Plaza at the base of the GLC and then marches through the Village to Whistler Olympic Plaza. Join the classic Après T-Dance at Whistler Conference Centre.
Whistler Blackcomb lift tickets are required for ski-out. Spectators are welcome.

DO'S & DONT'S OF LGBT
If you plan to decorate your business and are using the Gay Rainbow Flag, please hang it correctly.
(Pink) Red at the Top; Purple at the bottom
(Pink) Red hangs Left; Purple to the Right
Be aware of your and your staff's language. Are you using inviting and inclusive language?
Treat others how you would like to be treated.
Assumptions make an Ass of us all; if unsure just ask!
Ask the guest how they would like to be addressed especially the use of a pronoun.
When speaking about Same-Sex Marriage, "Marriage-Equality" is the best term; more inclusive.
OTHER QUESTIONS
Gay and lesbian ski and snowboard guides are available every day for all levels of skiers & riders as part of the complimentary mountain guide tours.
Guests can get married during the festival. Contact the Whistler Pride & Ski Festival guest relations office to discuss.
Have fun!