Hello Blackcomb Peaks Friends!
We have to admit that while the village has calmed down a bit after our latest Muderella event, we know that this is just the lull before the storm and Whistler will be a bustling village again soon. There are many great deals to take advantage of in Whistler this month, primarily related to the Thanksgiving Long Weekend (Oct 8-10) https://www.whistler.com/thanksgiving/.
Also, the super popular Whistler Blackcomb Turkey Sale  is from Oct 7-10, which means that we all will be shopping till we are dropping! Many local Whistler businesses along the village stroll also run sale deals during this time.
Having said that, probably the most exciting thing about October in Whistler are the various menu deals in local restaurants, which gives many of us the opportunity to visit a variety of restaurants, especially restaurants that locals might not typically be able to splurge on.
Here is a List of Several Whistler Food Deals going on This Month. Enjoy!
1. $35 Five Course Menu at Araxi
Available Sunday – Thursday (not avail. Fri & Sat) through October
Oyster special $18 / 10 3-5pm in the lounge
Dinner @ 5pm
Reservations: 604 932 4540
www.araxi.com, 4222 Village Square
2. $25 Three Course Menu at Basalt Restaurant located at #13 4154 Village Stroll
Available daily through October
Dinner @ 5pm
Reservations: 604 962 9011
www.basaltwhistler.com, 13 4154 Village Stroll
3. $39.95 Three Course Lobster Dinner at Barefoot Bistro at 4121 Village Green
Available Sunday – Friday (limited time only)
Happy Hour: Oyster at $9.95 / Half dozen
Half price bar food menu Monday – Friday 5-7pm & Sat – Sun 3-6pm, through October
Dinner @ 6pm
Reservations: 604 932 3433
www.bearfootbistro.com, 4121 Village Green
4. $37 Three Course Menu @ 21 Steps
Available daily
They are offering a second special of 3 small plates plus drink at $26 plus in the attic
Reservations: 604 966 2121
www.21steps.ca, 4433 Sundial Place
5. $21 Three Course Menu at The Mexican Corner Restaurant
Available Sunday – Thursday
Fiesta Hour 5pm – 6:30pm $8 Double Margaritas $5 Coronas
Pitchers of Sangria #29 for dinner
Dinner from 5-9:30pm
Reserve at 604 962 4450
www.themexicancorner.com, 4274 Mountain Square
6. 20% Off Lunch at Mongolie Grill
Available daily from 11:30am – 4pm through October
Healthy, vegan, gluten free, allergy aware options
Located above the Cinema 8
7. 25% Off Dinner Menu at Stonesedge Kitchen
Beverage must be purchased with dinner menu to get this deal
Bennies with fresh squeezed Oj Mimosa for $16 (till 3pm)
$5 Poutine 3-5pm & 10pm - 1am
Specials available Monday – Friday
Reserve at 604 962 9292
www.stonesedgewhistler.com, located at 4122 Village Green
8. $28 Special Menu at Nagomi Sushi
Available Sunday – Thursday
Reserve at 604 962 0404
www.nagomisushi.com, Located at 4557 Blackcomb Way
9. $21 Three Course Menu at Sushi Village
Available Sunday – Thursday
$13 Sake Marg Jugs
Reserve at 604 – 932 – 3330
www.sushivillage.com, Located at 4340 Sundial Crescent

10. Various Menu Specials at Teppan Village
Menus: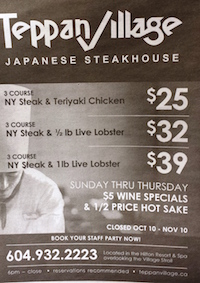 $25 THREE Course NY Steak & Teriyaki Chicken
$32 THREE Course NY Steak & 1/2lb Live Lobster
$39 THREE Course NY Steak & 1lb Live Lobster
Available Sunday – Thursday
$5 Wince Specials & ½ Price Hot Sake
Closed Oct 10 – Nov 10
Reserve at 604 932 2223
www.teppanvillage.ca, Located at 4293 Mountain Sq. #301
11. $49 Four Course Menu at HY'S
Whistler Thanksgiving Deals

1. Turkey To Go From Portobello at Fairmount Chateau Whistler
2. $45 Three Course Menu at Cure Lounge & Patio
Oct 8th & 9th
Dinner between 5:30pm – 9:30pm
Reserve at 604 966 5700
www.nitalakelodge.com, Located at 2131 Lake Placid Road
3. Turkey Dinner from Four Seasons
Turkey on the fly – order a whole roasted free range turkey for approx. 6 people from Four Seasons for $395 CAD.
Sides include mixed green salad, smoked turkey and sage stuffing, roasted veggies and more!
Call 604 966 2636 between pam – 5pm or email turkey.whistler@fourseasons.com
This is available for Canadian Thanksgiving (Oct 8-10) and American (Nov 24) Thanksgiving
Here are some other miscellaneous restaurant and bar specials happening in Whistler right now: