Enjoying the outdoor adventures and charm of Whistler village is made that much better when you experience it with your four-legged family! From outdoor dining, shopping, and a multitude of both on-leash and off-leash hiking trails, there is plenty to keep you busy while exploring Whistler! But before you load your pup into the car, make sure you know what you'll need, what outdoor activities await, and what regulations you will need to follow in Whistler!
Know Before You Go: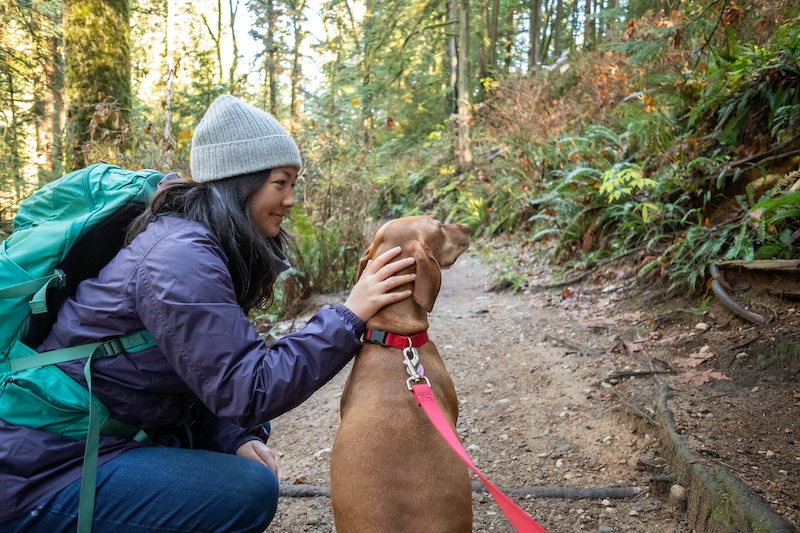 Before you pack your bags and head towards Whistler, it is important to know what you need to pack and bring to make sure your four-legged friend is ready for the journey! Although dogs coming into Canada are not required to quarantine, they are required to be up to date on their rabies vaccinations and documentation. Check with your vet to ensure that your pup is ready to go and you have the paperwork needed for a trip to Whistler! 
You also want to make sure that your dog has the proper identification on their collar or even a microchip to ensure that in the instance of you being separated, they have the information with them to be quickly re-united! Once you have all of this in order, it is time to pack your bags and hit the road!  
Check Out Our Dog-Friendly Packing List: 
Food (pre-measured for the amount needed during the trip) 

Portable food and water bowls 

Doggy bags and a poop scooper 

Extra collar and leash 

Toys and treats 

Medication (if applicable) 

Doggy shampoo (for getting clean after a day of outdoor adventure) 

A dog bed 
You should also be aware of the regulations and rules regarding dogs in Whistler. Dogs are required to be on a leash at all times unless in a specified off-leash area. Some of the main hiking trails are not dog-friendly so make sure that you research and plan hikes that are dog-friendly before you hit the trails (we list some below). Also, make sure that your dog is prepared for the Whistler weather. In the winter, dogs may need a coat or booties to stay warm while in the summer dogs should have access to plenty of water and not be left unattended in a car or tied up in the village.  
Pet-Friendly Whistler Activities: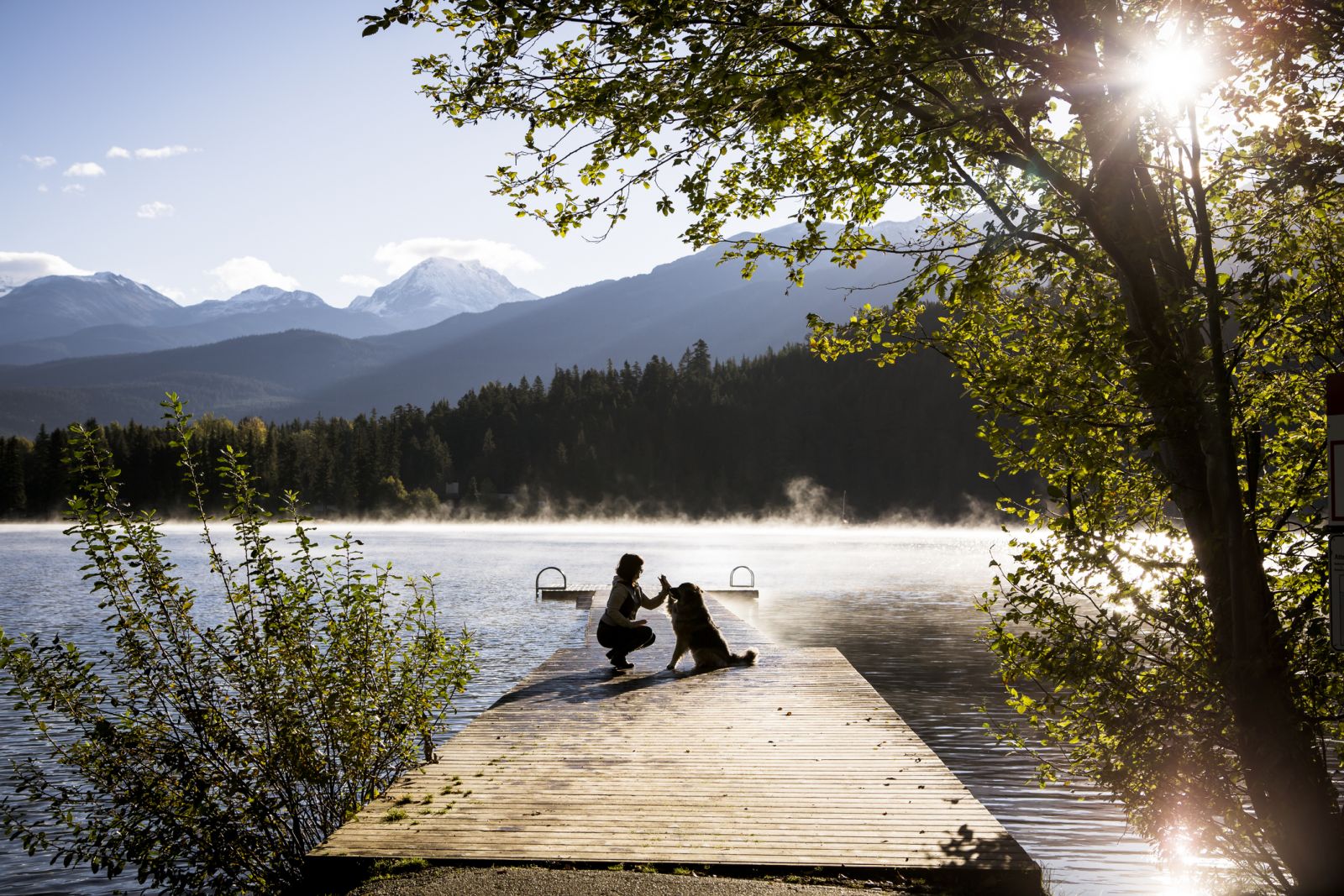 Strolling Whistler Village 
When exploring Whistler village, dogs must be on leash at all times unless in a specified off-leash area. Many of Whistler's stores are dog-friendly meaning that your pup can join in on shopping and exploring the village — just ask before you bring your pup into the store!  
On-Leash Trails and Hikes 
From the village, you can explore the Whistler Valley Trail which offers walking trails to nearby neighborhoods and dog parks. For a day trip out of town, head to Brandywine Falls Regional Park. Offering a handful of on-leash trails, this park features plenty of dog-friendly adventure and the gorgeous Brandywine Falls. The Sea to Sky Trail also invites leashed trails to get outdoors and enjoy the stunning scenery that can be found in Whistler. 
Off-Leash Hikes and Parks Near Whistler
For pups who want to explore off leash, there are a handful of parks in Whistler that invite you and your dog to enjoy time off-leash! Bayly Park is an off-leash park with an agility course for getting energy out and having a blast! The rest of the family can also enjoy amenities at this park like a beach volleyball court, playground, and gravel soccer field. While enjoying the other amenities at the park, pups are required to be on the leash. 
In the summer, dogs are invited to explore Canine Cove at Lost Lake Park for lakefront fun. At Rainbow Park's Barking Bay, enjoy an unfenced grassy area and a beach where pups can enjoy swimming while the rest of the park offers biking trails, hiking, sand volleyball courts, and more! No matter if you prefer on-leash or off-leash exploring, there is plenty of outdoor activities for you and your pup in Whistler!  
Pet-Friendly Whistler Restaurants: 
All-though pups are not allowed on any patio spaces, there are restaurants in Whistler's village that allow you to sit on the patio and have your pup sit with you, just outside of the patio space. There aren't any restaurants that are technically dog-friendly, but you can scope out patios with good areas to have your pup join you right outside the patio perimeter.  
Find a Dog-Friendly Whistler Vacation Rental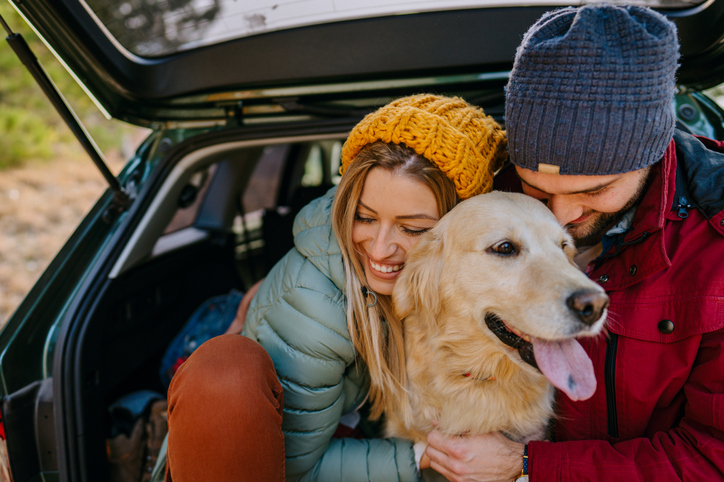 Ready to book a Whistler vacation? Browse our pet-friendly Whistler vacation rentals that invite the whole family to feel right at home while enjoying a getaway in the Fitzsimmons Mountain Range!