Spending a little time in the mountains is a perfect way to find your balance and get back in touch with what's important. Looking to get back on the road to great health and well-being? Unplug, rejuvenate and unwind with a Whistler getaway through Blackcomb Peaks.
Find Your Zen Lakeside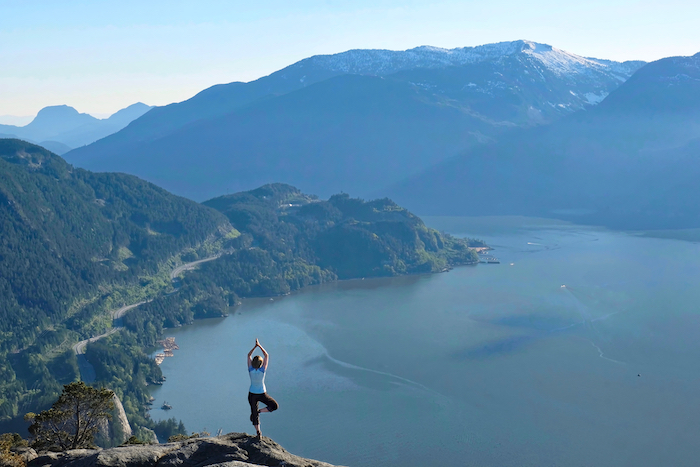 If your idea of relaxation involves yoga or meditation outdoors, head to one of Whistler's lakes for a surefire de-stressor. It's a scenic setting for calming your mind. Some practitioners believe meditation by a body of water boosts the mood and energizes a person. Check out our spectacular lakes to experience this feeling for yourself.
Soak in Good Vibes
Enjoy traditional Finnish hydrotherapy at the Scandinave Spa, which also features a steam room, hammocks, sauna, yoga room, plunge pools and more. The spa also offers massages. Spend a day rejuvenating at the spa. The age-old Finnish tradition of a soothing outdoor bath in a majestic setting is a one-of-a-kind experience. And, great news for fall visitors: These open-air baths are open year 'round. Enjoy a day of pampering at Scandinave Spa or one of the more than a dozen spas in Whistler.
Meditate on the Move
We all know getting outside is good for you. What better way to find your flow outsife in nature. Hop on a bike, hit the hiking path, go stand-up paddle boarding, or fly downhill on on skis. The fresh mountain air and movement is sure to revitalize you. The Fitzsimmons Accessible Nature Trail, a wide, gravel path, is close to Whistler Village. The trail is short, but there's plenty to see. Or, take the Lost Lake Shuttle for a walk in Lost Lake Park.
Take a (Cold) Plunge
Want to feel fully awake? Take a cold-water plunge in the waters of one of Whistler's lakes. Just a quick in-and-out offers a rejuvenating experience. Take a friend and pack a large towel and a thermos of warm tea. Just hold onto a ladder and submerge your body without venturing any further. A cold-water plunge improves your circulation, strengthens the immune system, increases energy and well-being, and can decrease seasonal anxiety and depression.
Eat Clean
Whether you enjoy a plant-based diet, are vegan or vegetarian, you'll find plenty of delicious healthy dining choices in Whistler. The menu at the Green Moustache Organic Cafe in Marketplace Shopping Centre includes fruit and grain bowls, buckwheat waffles, dairy-free and gluten-free soup, salads, quinoa bowls and lots more. The Naked Sprout Juice Bar Cafe serves delicious organic smoothies and juices as well as grilled paninis, ramen and quinoa bowls and elixir shots.
Book Aspens 125, a two-bedroom/two-bath unit in The Aspens Lodge on the slope side of Blackcomb Mountain in the Upper Village. The lodge includes three hot tubs for even more body and soul recovery. Take a deep breath, appreciate the view, and relax. You're in the mountains now.