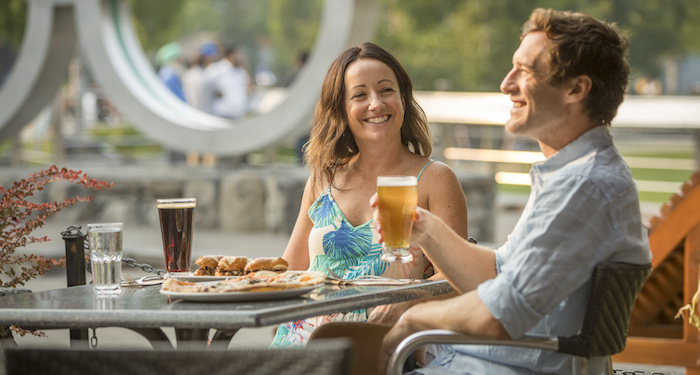 Celebrate after a day of outdoor fun on the mountain with après ski, a longtime tradition that allows you to unwind with friends over a cider or beer on an open deck, a sprawling village lawn or an indoor spot. Fortunately, Whistler has plenty of places to kick back and relive the day. 
Whether you appreciate a cold beer in a cozy pub or a funky, ultra-hip dance party, Whistler's clubs and bars have you covered.
Cheers with Friends
Raise a glass in the warmth of a local tradition. Blacks Pub, one of Whistler's original establishments, serves 101 different bottled beers and lagers, and has a wide range of beers on tap. There's also frequently live music, so kick back, catch some great tunes, and enjoy a brew and the view from their upstairs pub.
Or check out authentic Irish pub fare with a pint of Guinness at Dubh Linn Gate Irish Pub. From breakfast to dinner, Dubh Linn Gate serves warm, hearty meals with 25 taps.
After a day on the mountain, join the après party at Longhorn Saloon & Grill, just steps from Whistler Mountain. Park the bike, and enjoy one of their special Gibbons Après Lager, brewed just for the occasion.  
Whistler Dance Party
Prefer to dance the night away with friends? Join the party at Garfinkel's, where they host special events every night of the week. It's Whistler's biggest - and busiest - club, with all types of music.
Moe Joe's brings in the best DJs and top musical acts covering all genres - from techno to disco/funk/soul to country to hip hop. Hit up the Sunday Night Glow Party where the dance floor is packed and high-energy music flows. Or, head to Tommy's in Village Square, where there's table service, craft cocktails and dancing. Lots of dancing. Wednesdays they play indie rock alternative all night and Thursdays features throwback music. Tommy's is open Tuesday through Saturday.
Whistler has plenty of places to throw one back and wet your whistle. It's a great way to end the day after an outdoor adventure.
Related Blog Posts
Whistler's Best Apres Ski Spots