A few weeks ago during a whirlwind weekend trip to Whistler, I mustered up some courage, and tried downhill mountain biking for the first time ever. For anyone that knows anything about mountain biking, the Whistler Bike Park is a mecca for the sport. 50 impeccable trails wind down Whistler Mountain, ranging in difficulty from Easy to Expert. Riders can experience beautiful banked turns through coastal forest, wall rides, tight single track, steep rock faces, and a full assortment of dirt jumps.
My avid-mountain biker husband assured me that if I was to try downhill biking for the first time anywhere, Whistler should be the place. He assured me that the trails would be well-maintained, I'd have a top-of-the-line bike, and probably one of the best instructors around. And to my surprise, he was right on all accounts.
After a fun night out in the Village, we rolled out of bed on a foggy, rainy morning and started the short stroll over to Whistler Village from our Aspens Condo. I kept looking up at the sky, wishing the rain would stop falling. We chuckled recalling the response on the telephone when my husband Braeden asked the Whistler Bike Park agent if they had a "rain policy."
"There is no rain poiicy," she said chuckling. "If it rains, you'll have fun biking in the rain." Fair enough. And here we are, and it's raining - but we're guaranteed to have fun!
I signed up for the Whistler Bike Park 101 lesson, and my husband took a spot in a more advanced group. Both types of lessons come with a full-suspension downhill mountain bike, full-face helmet, knee and elbow pads, a dedicated instructor, and a pass to ride both the gondola and the chairlifts. G1 Rentals next to the Whistler Gondola set us up with everything we needed, and we were off for 2 plus hours of muddy fun with our groups.
Our day in the Whistler Bike Park was incredible. I practiced basic downhill bike skills and tactics as I soared (or it felt like I was soaring) down beautifully crafted, smooth dirt trails with interesting features, jumps, wooden walls and bridges, and more. Both of our instructors were top-notch - professional, friendly, and great teachers. I felt safe and comfortable the whole time, and my riding progressed with each run we took.
I'm still trying to get the mud out of my bike shorts and shoes, but it was worth every minute. I think I'm hooked.
If you haven't visited Whistler in the summer, give Blackcomb Peaks Accommodations a call and head out there. Rain or shine, you're guaranteed to have an excellent time, even if you don't visit the Bike Park.
Now we've got to start planning our first winter trip to Whistler...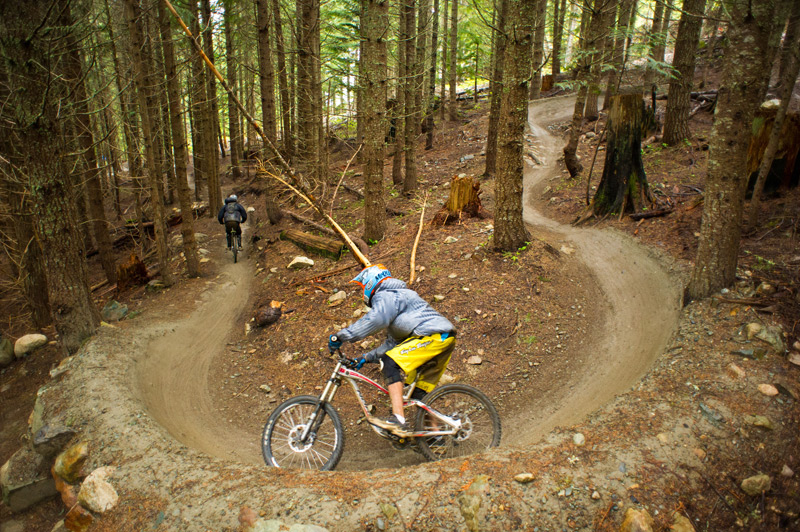 Photo by Mike Crane