In addition to being a great ski getaway, Whistler is also a wonderfully romantic destination. Whether for a weekend or a week-long escape, it's the perfect place to unwind and reconnect with your significant other. Leave the technology behind and make a break for Blackcomb Peaks. There's so much to do, and here are some sure-fire ways to indulge.
A Dinner Date
Dinner is a date main-stay, so why not make it a progressive event? Whistler Tasting Tours has a choice of the Hidden Gems Dinner Tour or the more elegant Finer Things Dinner Tour. If it's a first date or a not-so-sure date, make it the self-guided lunch tour. Either way, you'll get a taste of the best of Whistler restaurants, complete with dessert and wine.
Indulge in a Spa Day
Scandinave Spa is like Disney World for adults. Relax in the hot tubs, cold plunge pools, steam baths, hammocks, sauna or by one of the fireplaces. Experience the age-old Finnish tradition of soaking in soothing outdoor baths in a picturesque, silent atmostphere (no talking allowed!). Add a massage to make your day complete. The open-air baths are available year round. This is truly a special experience!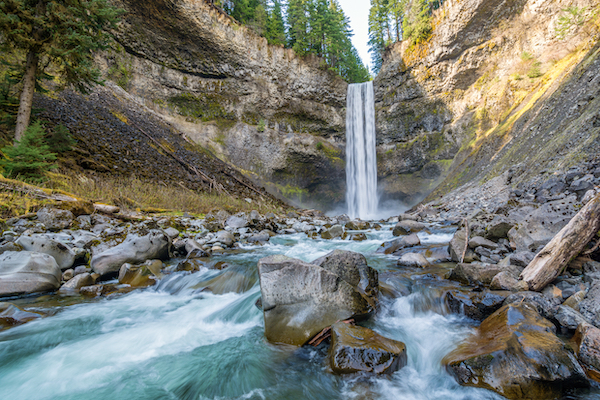 Visit a Waterfall
Whistler has breathtaking hiking trails with spectacular views and lovely meadows. Take a picnic lunch to Brandywine Falls Provincial Park with beautiful views of Daisy Lake and thesurrounding mountains. And it's just a five-minute walk from the parking lot to the falls.
Stroll the Village
Spend the evening walking hand-in-hand through the pedestrian-only Village Stroll. This is Whistler Village, the centrally-located neighborhood at the base of Whistler and Blackcomb mountains. The Village Stroll connects the ski hills to four public squares by way of a meandering, cobblestoned route. It offers more
than 100 shops and eateries, so you're sure to find a place for a drink (or two) and a romantic dinner.
Warm Up In an Ice Room
The Ketel One Ice Room at the Bear Foot Bistro allows visitors to sample sub-zero vodka. Don a parka (they provide) and step up to the bar where they offer 50 vodkas from around the world. Taste four vodkas of your choice and experience how the extreme environment enhances the flavor.
Book a romantic stay at Aspen Condos in the Upper Village. Get cozy by the fireplace or in the hot tub, and enjoy the views. There are plenty of other Whistler vacation rentals that are perfect for couples, as well. Find one that's nearest the attractions you're most interested in and enjoy a restful vacation with your significant other!