What started as a small gathering in 1992 has grown to one of the largest pride-focused ski weeks in the world, and the largest pride festival in Canada. The Whistler Pride and Ski Festival takes place Jan. 26-Feb. 2 with eight days of concerts, parties and skiing in a celebration of diversity and inclusivity. 
Guests from around the globe enjoy an awesome mountain experience and a world-class event. Here's a guide to help you get started on planning your Pride celebration getaway to Whistler: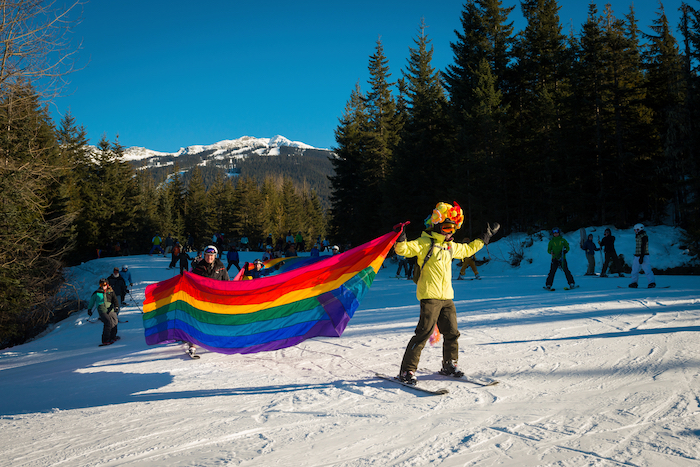 Get the Details
Use the Whistler Pride and Ski Festival 2020 app to stay up-to-date on all Pride activities, daily schedules, maps, and easy access to purchase tickets. The app can be downloaded from the App Store and Google Play. There is also a web version that works on any browser. Or visit the Whistler Pride Welcome and Information Centre at the Aava Whistler Hotel, 4005 Whistler Way.
Hit the Slopes
Guided Ski and Snowboard Groups, which are free, provide a fun opportunity to meet other festival-goers and be led safely around the mountain with friendly guides. Groups meet at 9:45 a.m. on Monday, Wednesday and Friday at the Top of Whistler near the Roundhouse Lodge on Whistler Mountain; and on Tuesday, Thursday and Saturday at Glacier Creek Lodge on Blackcomb Mountain.
Wave Your Pride Flag
Parade Day is a sight to behold. All ages are welcome to participate in this free event, which begins from MidStation on Whistler Mountain at 3:30 p.m. on Friday, Jan. 31, with skiers in colorful and creative outfits slaloming down the mountain to the village. There, they are joined by others to march through the village. The parade ends at the Whistler Pride Conference Centre with drinks and dancing at the festival's T-Dance, offering free admission until 6 p.m.
Help a Good Cause
A Charity Ski Race takes place at 1 p.m. on Thursday, Jan. 30 at the GMC Race Centre on Blackcomb Mountain. The event raises money for Loving Spoonful, a volunteer-driven, non-partisan Society that provides free, nutritious meals to people living with HIV and co-existing illnesses. So, it's a great way to have fun and raise money for a great cause. No race experience is necessary, and prizes are awarded for fastest, slowest, and for coming closest to your predicted time.
So Much to Do
Other activities during Whistler Pride and Ski Festival include free daily après, the EATS dining program, T-dances, an indoor pool party, Cabaret nights, a special Scandinave Spa soak, snowmobile tours and more. 
Book Your Stay
Blackcomb Peaks Accommodations is happy to find the perfect rental to make your stay even more memorable. Enter in your dates and begin your search now!