Looking for the perfect getaway spot? Whistler Blackcomb, British Columbia's premiere year 'round mountain resort, has been consistently rated the No. 1 resort in North America. And, for good reason. There's everything you need for a perfect vacation experience, including great accommodations in the middle of all the action, 200 shops and boutiques, nearly 100 restaurants and bars and some of the most spectacular scenery anywhere in the world.
Check out just a few of these must-do activities when visiting:
Take the Cloudraker Skybridge
Get your head above the clouds at this suspension bridge, located right beside the top station of Peak Chair on Whistler Mountain. Buy a Peak 2 Peak 360 ticket, which includes the Cloudraker Skybridge. You'll get an incredible view on the bridge, which stretches from the top of Whistler Peak to Raven's Eye Cliff Walk at the West Ridge.
Go on a Bear Safari
Want to see a bear in the wild? Whistler and Blackcomb mountains are home to up to 60 black bears and cubs. Whistler Bear Viewing Tours takes passengers in a 4x4 vehicle to get up close to these amazing animals. Good news! Prices drop in late season of September-October. But the last day for a tour is Oct. 15, so don't miss your chance to safely view bears in their natural habitat.
Experience Local Culture
Learn about first nation culture at The Squamish Lil'wat Cultural Centre, the first centre of its kind in Canada. The centre includes permanent and temporary exhibits from the Squamish and Lil'wat Nations with live weaving, carving, cedar prepping and other demonstrations. There's also an interpretive forest walk, crafts and a 15-minute film on the first nations. Admission is $13.50 to $18, with children 5 and under free. Get a family pass for $42.
Turn A New Leaf
The leaves don't just change color – they absolutely glow in Whistler. Starting in October, trees turn a mix of vibrant mix of golds, browns, russet, purple and more. Check out Rainbow Park at Alta Lake, with spectacular views of Whistler and Blackcomb mountains. You can catch the beautiful fall foliage in all its glory.
Stroll the Village
Whistler Village is the central neighborhood at the base of Whistler mountain. It's the perfect place for shopping, sightseeing and of course, eating. From five-star dinners and burgers to quaint pubs and coffeehouses, the Village offers something to satisfy every craving.
Paddle the River of Golden Dreams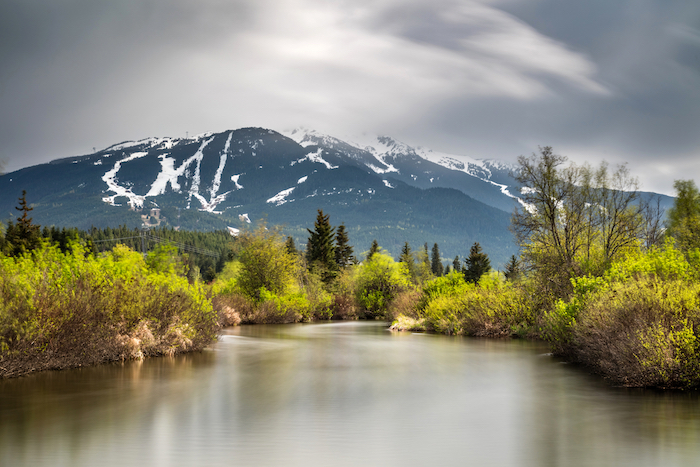 Late summer is the perfect time to take a scenic kayak or canoe excursion to explore the River of Golden Dreams. Trips are daily through the end of September and on weekends through Oct. 15. With epic views around every bend, the river features lush, old-growth forest and wildflower-lined banks, as well as stunning snow-capped mountain vistas. Take a tour with an experienced guide or rent a kayak and head out on a self-guided trip.
Pick Up Some Produce
Shop the Whistler Farmers Market in the Upper Village where up to 90 local vendors sell vegetables, gourmet products, art and more. The market is open on Saturdays and Sundays through Oct. 12-13.
Hit the Trails
Take a hike along the Blackcomb Ascent Trails, three interconnected uphill hiking trails that meander through beautiful old-growth coastal rain forest terrain from Whistler's valley bottom to Rendezvous Lodge on Blackcomb Mountain. It's a total of 6.2 km with a total elevation gain of 1,200 meters.
And that's just the beginning. There's so much to do in Whistler, you'll want to come again and again. Book your stay now for the perfect accommodations in the perfect vacation spot.