Get ready to go dashing through the snow! The winter season is upon us, and Christmas time is truly a magical experience Whistler. Dressed in holiday style, Whistler Village is just bursting with yuletide spirit. 
While some things will be different this year, there is still so much to do in this picturesque playground.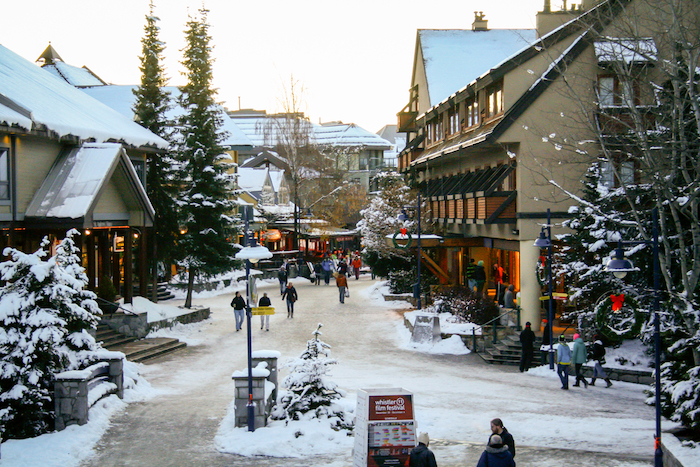 Hit the Slopes
There is no better for skiing and snowboarding than the world-renowned slopes of Whistler Blackcomb. With over 8,100 acres of ski terrain across two mountains, you'll discover over 200 trails, 38 lifts, 12 alpine bowls, and one vertical mile of skiing. Opening Day is Nov. 26. Reservations will be required and pass holders get priority access. Lift tickets go on sale Dec. 8, after pass holders reserve their priority days.
Whistler Holiday Experience
This indoor family fun zone provides entertainment for kids and parents alike during the holiday season. Kids can enjoy a mini putt course, table games, bouncy castles, crafts and video games free for 15 days over Christmas and the New Year. Parents can relax in the lounge area and enjoy a coffee or hot cocoa while the kids play.
Family Apres
Enjoy gathering at Olympic Plaza with family and friends after skiing the trails. Sip a warm beverage at a traditional Apres, a wonderful time of outdoor fun and entertainment. While the 2020/21 season dates are still to be decided, this winter tradition is the perfect way to celebrate a day on the mountain.
Skate Your Heart Out
An outdoor ice rink in the middle of Whistler Village provides a wonderful skating setting that the whole family can enjoy. Free helmets and push bars provided. Skate rental is $5.
Fire & Ice Show
Each Sunday starting at 7 p.m., enjoy the annual Fire & Ice Show, a spectacular display of high-energy music, fire spinners and fireworks. Marvel as some of Whistler's best skiers and riders twist and flip through a blazing ring of fire. The night ends with a dazzling fireworks display. The free show takes place at Skiers Plaza in Whistler Village at the base of the Whistler and Excalibur Gondolas.
Celebrate the Season
The annual Christmas Eve Carol Service, hosted by the Whistler Children's Chorus and Whistler Singers, takes place from 6:30 to 7 p.m. on Dec. 24. This interdenominational celebration features traditional carols, choral music and readings about the birth of Christ. Donations are accepted. 
Welcome the New Year 
Say goodbye to 2022 at Whistler's New Year's celebration, which starts early (11am) in the Olympic Plaza, where families can experience true Canadian winter fun, with ice skating, snow activities, and outdoor entertainment. Or come in from the cold at the Whistler Conference Centre. Both venues offer entertainment starting at 11am.
Then, catch the excitement of the high-flying excitement of the Fire & Ice show at 8:30 p.m, followed by fireworks at 9 p.m. Fireworks are best viewed from Skier's Plaza, located at the base of Whistler Mountain. The Fire & Ice show occurs every Sunday all season, from Dec 31st through March 12, 2023, in case the you miss the show on 12/31!). Free public transit within Whistler is available from 5 p.m. to the end of service at 3 a.m.
When there's a feeling of Christmas in the air, discover the winter wonderland that is Whistler Blackcomb!