There simply isn't a better place than Whistler to enjoy nordic skiing and snowshoeing. Whistler has a large network of cross-country ski and snowshoeing trails in the village and beyond, ranging from super easy runs to hardcore black inclines. Although many of you come to Whistler for the alpine and backcountry skiing, sometimes it's nice to mix it up and try different activities. It can be a nice change of pace, and an excellent way to experience the quiet beauty of nature in the winter. Let's explore what Nordic activities you can enjoy in Whistler. 
Lost Lake Nordic Skiing:
Nested at the north-east part of Whistler Village (a short walk from day lots 4 & 5), Lost Lake Park offers 25 km of cross-country trails and 15 km of snowshoe trails with incredible views of Whistler and Blackcomb Mountains. There are a few steps that need to be taken before the park gets ready for the winter fun, like having at least 50 cm of base, combined with consistently cold temperatures below three degrees Celsius and some additional snow to compact trails so the base can be groomed and opened. Cross-country skiing and snowshoeing enthusiasts looking for a more peaceful experience will be pleased to know that dogs and runners are not allowed on groomed trails. And to ensure a great quality of trails, they are being groomed daily for classic and skate techniques, with four kilometers lit for night skiing!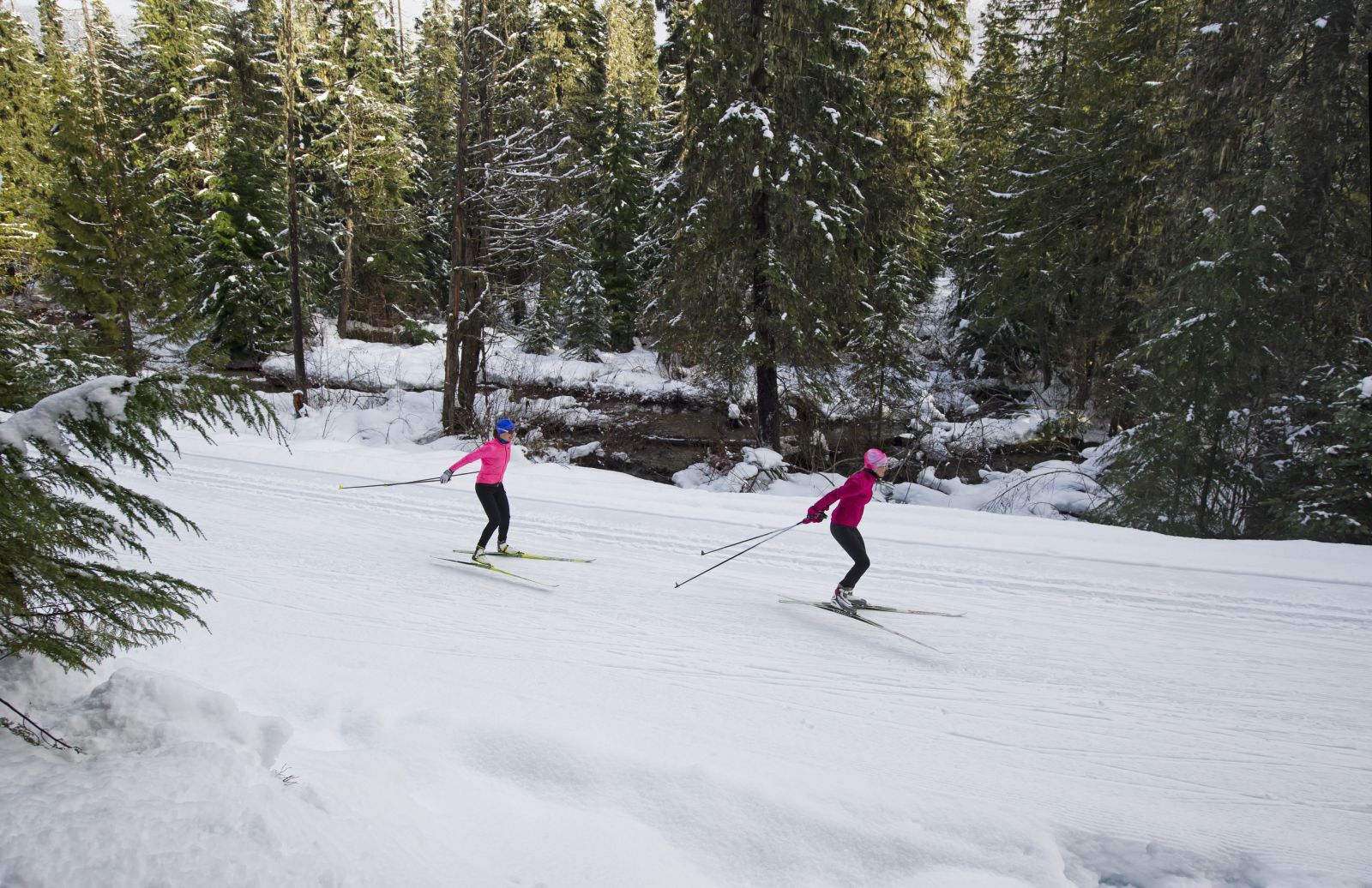 Lost Lake Cross-country Trails Include:
Lost Lake Loop (4 km) - beginner
Snowshoe Trails (10 km) - beginner
Nicklaus North Golf Course (4 km) - beginner
Lost Lake Trails (8 km) - intermediate
Chateau Golf Course (8 km)  intermediate / advanced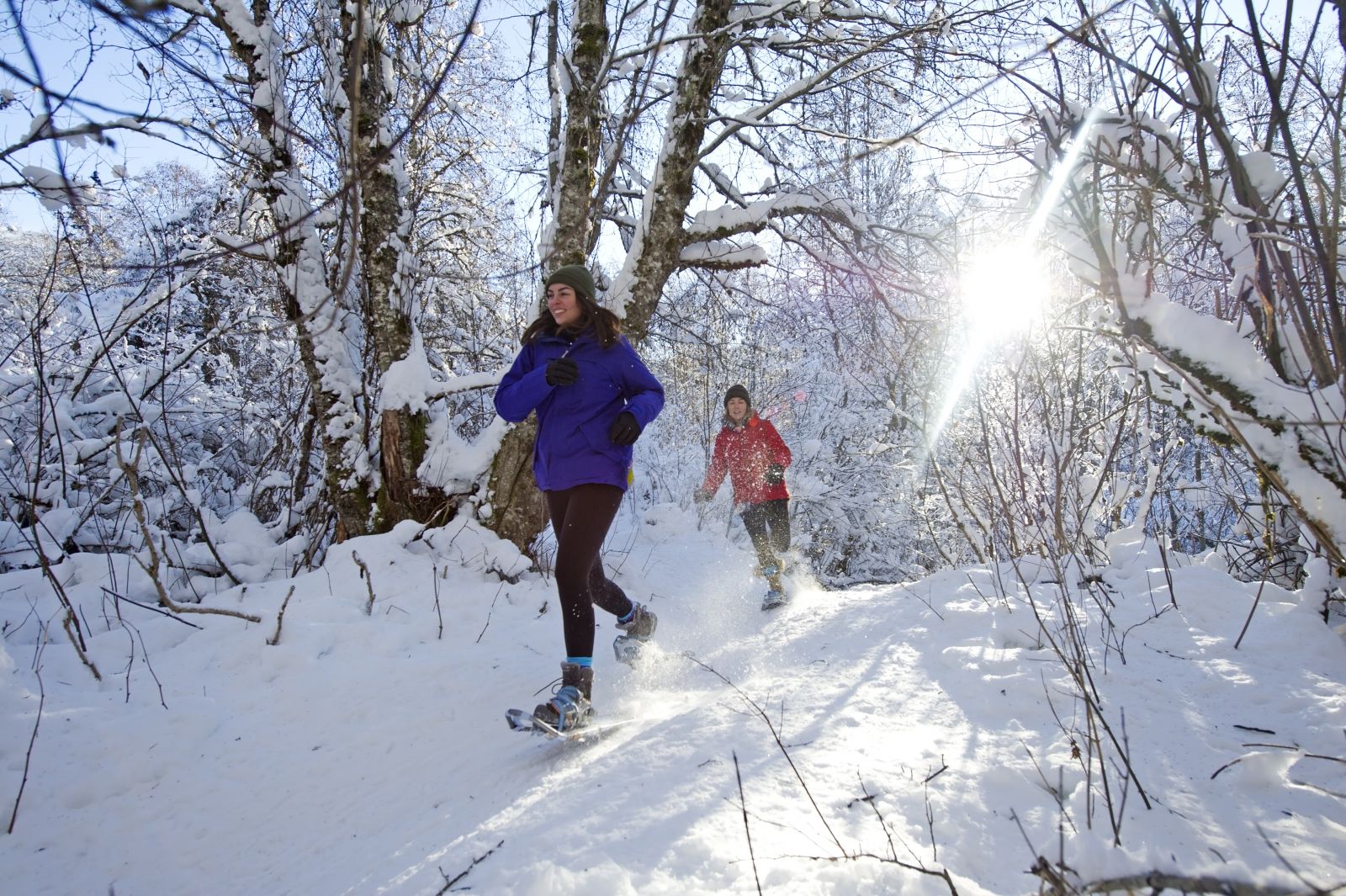 Lost Lake Snowshoeing Trails Include:
Nature Trail – 3.2 km
Tin Pants / Gypsy Drum – 2.7 km
Hooktender – 0.7 km
Siwash Trail – 0.7 km
Tommy Moore – 0.8 km
Donkey Puncher/ Molly Hogan – 5.2 km

Starting point for all snowshoeing trails are from Lost Lake PassivHaus (home of the Austrian team at the 2010 Winter Olympics)
Rentals, lessons, cross country / snowshoeing day tickets or seasonal passes can be purchased  at the Lost Lake PassivHaus
You can also enjoy refreshments at the Connection Cafe located at the Lost Lake's PassivHaus
Latest news regarding hours of operation can be viewed HERE
FREE Valley Trail Snowshoeing
Guests can enjoy about 8 kilometers of the Valley Trail from Rainbow Park to Meadow Park are groomed for cross-country skiing, snowshoeing and their pets on the leash are permitted as well. There is no trail fee and the trails are groomed approximately every three days. You can view the Whistler Valley Trail Map HERE.
CALLAGHAN COUNTRY & WHISTLER OLYMPIC PARK
The Callaghan Country is a traditional ski location and Whistler Olympic Park hosted all Nordic competitions at the 2010 Olympic and Paralympic Winter Games. Both venues are located at the heart of the Coast Mountain Range, 10km north of Whistler off HW 99. Checking the highway conditions before driving is sensible as Callaghan Valley is famous for winter storms and lots of snowfalls. Callaghan Country and Whistler Olympic Park now offer a joined pass to both areas, creating a combination of 130km of groomed cross-country ski and snowshoe trails for all levels.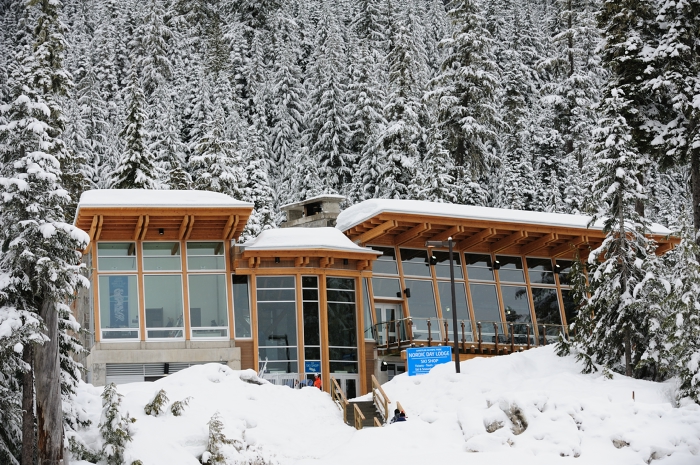 Whistler Olympic Park also offers other exciting activities: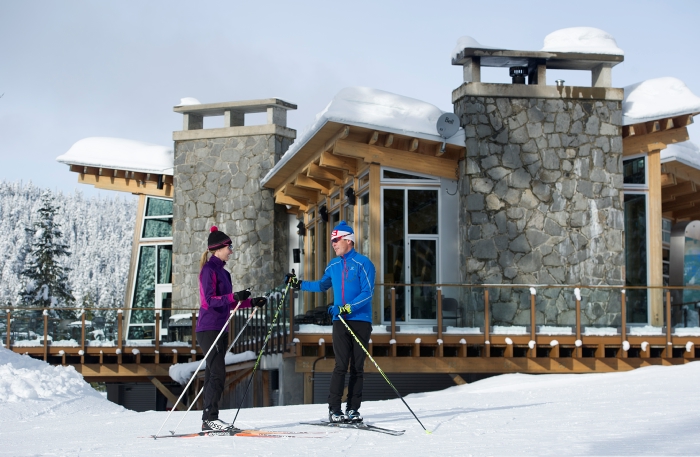 Callaghan Country has much to offer as well: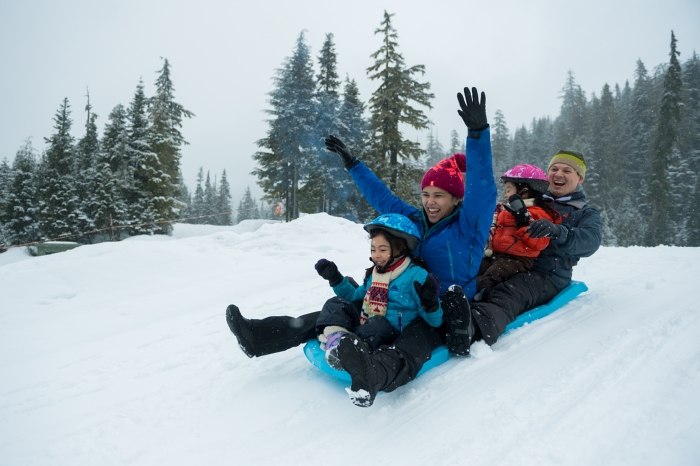 ENJOY THE NORDIC FUN! 
Images: David McColm / Mike Crane