Hello Blackcomb Peaks Friends-
It is a common misconception that bears hibernate during the winter. While bears tend to slow down during the winter, they are not true hibernators. Black bears, Grizzly bears and Brown bears do go into a deep sleep during the winter months, known as torpor. Skunk cabbage is sometimes known as bearweed, as bears are one of the few animals that eat the buds and leaves.When bears awake after hibernating / torpor, they haven't defecated in a long time. Prior to hibernation, they ingested leaves, hair, dirt and needles to form a fecal plug up to a foot long in their lower intestine. When they wake up, they need to become unplugged before they can feast on grasses and grubs.Skunk cabbage reminds us that bears will soon be sharing our favourite trails again, so when you start to see skunk cabbage around, remember to make noise and be aware of your surroundings.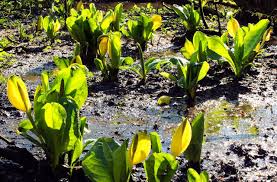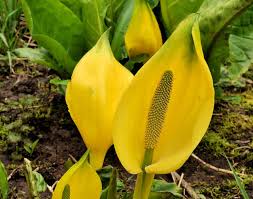 With that being said, there are some obligations that come with the awakening wildlife such as bears. Whistler is a Bear Smart Community and any resident or a visitor simply must be aware of the dos and dont's when it comes to these animals. For instance, when you travel into a foreign country, you do some research about the local customs and traditons to understand how each country works and how best to "move" in a new environment. The same counts for travelling into a bear country such as Whistler and here is all you need to know to be a smart resident / visitor:
ABOUT WHISTLER BEAR SMART COMMUNITY
The Resort Municipality of Whistler (RMOW) has been engaged in proactive initiatives to reduce and prevent human-bear conflicts since 1995. Among a few B.C. communities (the Village of Lions Bay, Squamish, Port Alberni, Kamloops, Naramata, and New Denver), Whistler prides in achieving a designation of a BEAR SMART COMMUNITY which means, Whistler is committed to reducing human-bear conflict through ongoing education and long-term best bear smart practices.
BEST BEAR SMART PRACTICES:
#1 – BEAR SMART RESTAURANTS
Bears need to eat just like any other creature and they are equipped with an incredible sense of smell so they can detect animal carcasses upwind and from distance of 20 miles away! Whistler residents share the living space with bears and other creatures so closely that everyone needs to assume that bears can smell your food when you BBQ, cook with an open kitchen window or hike with a backpack full of food. The many restaurants widely spread throughout the village are no exception and it is absolutely essential that restaurant owners promote bear smart education among their team members to reduce the human-bear conflict and essentially, unnecessarily premature deaths of these amazing creatures. 
WATCH THE BEAR SMART RESTAURANT STAFF TRAINING HERE
#2 – GARBAGE DISPOSAL AND WILDLIFE ATTRACTANS BYLAW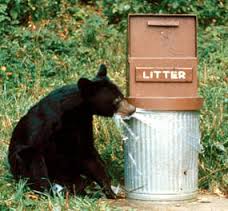 Whistler has adopted this bylaw in March 17, 2009 and it states: 
"No person shall dispose of or store domestic garbage, waste, or recyclable material except into a container that is a wildlife resistant container or is located in a wildlife proof enclosure."
Tips for keeping garbage away from bears:
Store garbage in a bear-resistrant household container or in a secure building.

Ensure bins are tightly closed or locked.

Regularly wash all recycling items and clean the bins that contain garbage or recycling.

Do not leave garbage in the back of a truck, even if it has a canopy.
#3 – BEAR SMART HOME OWNERS AND RESIDENTS
There have been many incidents of bears literally making it into someone's home for the search of food. Although bears prefer natural foods, if humans' foods are easy to access, they will eat it. Bears can smell better than dogs and anyone living in a bear country needs to realize that once you condition bears to get food by ignoring the bear smart practices and rules, you sign them up for a fatal end.
You can help manage bear attractants by:
Storing garbage, recyclables and compost in a secure building.

Slanting non bear attractants (fruit trees, berry bushes, vegetable gardens).

Removing bird feeders during bear season.

Burning barbecues clean and removing all grease and food scraps after every use.

Feeding pets inside and storing pet food indoors (note that porches are not usually bear-proof).

Using non-citronella products to ward off insects.

Using an aluminum hot tub cover.

Using a bear-proof composter or dropping off compost at the municipal waste deposit sites.

Cleaning up any fallen fruit. If you are on vacation ask a friend or neighbour to collect fruit.

Keeping lawns mowed and weeded (grasses, dandelions and clover are natural bear foods).
​
A ​TRUE STORY:
......... a bear accessed attractants on Piccolo Drive only a few days away from hibernation time, and kept returning. Ultimately that bear, Charlie, was destroyed. He was a long time local Whistler golf course bear and because the attractants were not properly stored Charlie was killed.
Even if you did not come to Whistler to see bears, it is very likely that you will encounter one on your hike, bike riding trip, walk with your dog or in your tent near the berry bushes!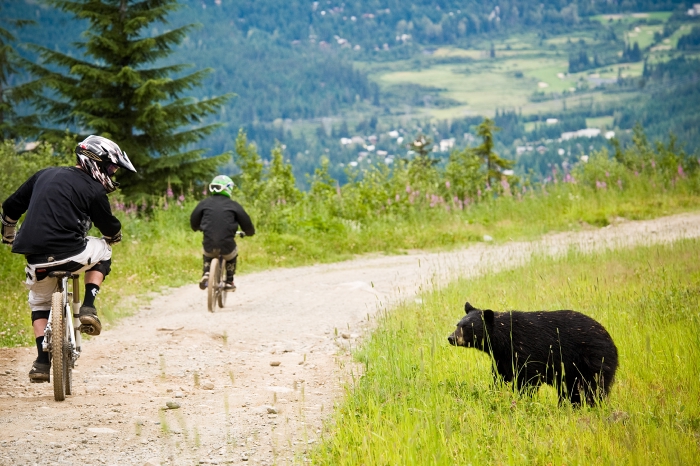 Photo Credit: Tourism Whistler/ Chad Chomlack
Tips to keep yourself and bears safe:
Ride, run, hike, or walk in groups whenever possible. Keep your group close together and talk loudly, if you see fresh signs of bears (scat, tracks, claw marks on trees, overturned logs) nearby. Bears should avoid you, if they know you are in the area.

Carry bear spray and know how to use it.

Keep all dogs on leash. Dogs can provoke defensive behavior in bears. Mountain bikers should leave dogs at home.  Dogs can provoke defensive behaviors in bears, because they move quickly and can trigger a pursuit. Bears can run fast, up to 48 kilometres per hour. The world's fastest human sprinter, Usain Bolt, can only reach 43 kilometres per hour at top speed. 

Be aware that mountain bikers put themselves at higher risk for a bear encounter, because they move quickly down a trail and are relatively quiet. Make noise if you are biking.

Take your earbuds out; remain alert and listen for signs of a bear in the area.

Creeks and rivers can muffle sounds and make it harder for you to hear an approaching bear. They also make it harder for the bear to hear you, so make extra noise when using trails near running water.

On trails with limited visibility, use extra caution and make more noise to avoid surprising a bear.

When camping, remember that anything scented will attract bears such as: good, condiments, parfume, tooth paste, insect spray, gas or oil containers, sun-lotion, pet foods, coolers (full or empty), soap, dish soap – store ALL food and wildlife attractants (including scented lip balms) in the animal-proof facilities provided. If no facilities exist hang your food and garbage between two trees at a minimum of four metres off the ground and one metre from each tree. 

If you see a bear while you are driving, slow down, but do not impede traffic flow or stop to view bears. Stopping on a road creates unsafe driving conditions and can stress a bear by disrupting its eating pattern.
Report bear sightings in residential areas by phoning the BC Conservation Officer Service (COS) at 1-877-952-7277 or 604-905-BEAR. Whistler Conservation Officers are notified daily about sightings and immediately in emergencies.
LEARN MORE: