Get set for the biggest party of the year at Whistler Blackcomb!
If you're a wine lover, Cornucopia is a must-attend event. If you love delicious food, even better!Cornucopia Whistler is an 11-day festival with more than 100 events celebrating food, drink and over-indulgence. Generally speaking, Cornucopia is all about decadence. It's an event meant to open you up to fresh ideas and inspiration with drink seminars, chef lunches, tastings, and avant-garde parties. For newbies, it can be a little overwhelming, so we're here to help with our visitor's guide to enjoying Cornucopia.
Reserve Tickets Now
Start now in planning your visit. Here's what you need to know. Cornucopia is Nov. 7-17, with various events set at an array of venues. Tickets vary in price and availability, so check out the schedule now and reserve your spot. And here's a Pro Tip: Get an early entry ticket for the CRUSH Grand Tasting Event on Nov. 9. That means you'll be among the first to sip and sample wines at this flagship tasting event.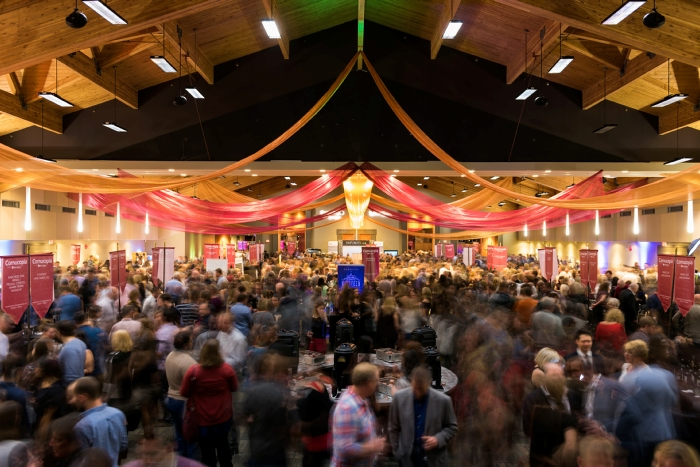 photo by Mike Crane/Tourism Whistler
Pace Yourself
Remember, Cornucopia is a marathon, not a sprint. This is almost two full weeks of wine tastings, dinner parties, cocktail crafting and carefully cultivated cuisine pairings. So, take it easy. Drink lots of water between tastings to stay hydrated. And there's no shame in heading back to your condo for a nap if you need it. 
Snap Photos
Bring your camera, but not for Instagramming. After all, Cornucopia is all about living in the moment...not documenting it on social media. That said, you will try a wine or a dish that you absolutely love and think, "I have to remember that." And, you'll forget it as soon as you're on to the next thing. So, snap a photo of labels. And feel free to take notes of wine tasting or cooking tips. 
Book a Culinary Stage Series Event
Chefs and drink experts share their passion during these events, which are like attending a live cooking show. Most tickets are $43 each and include multi-course menus with drink pairings, so it's a wonderful value. 
Hit the Party Circuit
Cornucopia includes lots of parties so check out this list and find the ones that best suit your tastes and get your tickets. Have some laughs at the Comedy Kitchen. Enjoy a custom disco party or drag show. Experience the artful Warhol Factory Party, a new addition this year. Whichever you choose, wear your dancing shoes and get set for a good time.
Go with the Flow
Cornucopia is all about being introduced to new things. That may mean trying a different variety of wine than you're accustomed to. Or a dish you've never heard of. Keep in mind most of the wine tasting events don't include a full meal, so dine at one of the incredible Village restaurants before sampling all that vino. 
Stay Healthy
You're vacationing in an adventure paradise, so take advantage. Soak in a Scandinave Spa Bubble Bath. Take a yoga class. Hike a trail. Keep up your gym routine. 
Stay Close
You'll want to stay close to all the activities, especially when you need a break or a nap. That's where Blackcomb Peaks Accommodations comes in. We have a plethora of vacation rentals in great locations around Whistler Villages, so you'll always be within walking distance or close proximity to all the venues.