DRIVING THE SEA TO SKY HIGHWAY TO YOUR WHISTLER VACATION
The Sea to Sky Highway is the road that leads to Whistler from Vancouver, and it must be one of the most beautiful drives in the world. Snow-capped mountains and turquose green waters surround you for the whole drive as the road winds past lush forests, waterfalls, lakes, climbing areas, and charming towns and cafe. This wonderful road hugs the coast with stunning views over to Vancouver Island. For most travelers this is the dream - not only is your destination remarkable but so is the journey to get there.
SUGGESTED STOPS ON YOUR WAY TO WHISTLER
The drive from Vancouver takes nearly 2 hours at quiet times (traffic can get quite bad on weekends and holidays), but once you are out of the city every minute is enjoyable as you head for your Whistler getaway. A far more enjoyable way of making the journey is to take your time and enjoy the sights en route rather than rushing straight for Whistler. There are numerous viewpoints that can be stopped off at as well as many nearby sights on the way. Tantalus lookout, 12 kilometers past Squamish, is the most beautiful on the Highway and is a definite stop off, even just for a couple of minutes to stretch your legs.
THE SHANNON & BRANDYWINE FALLS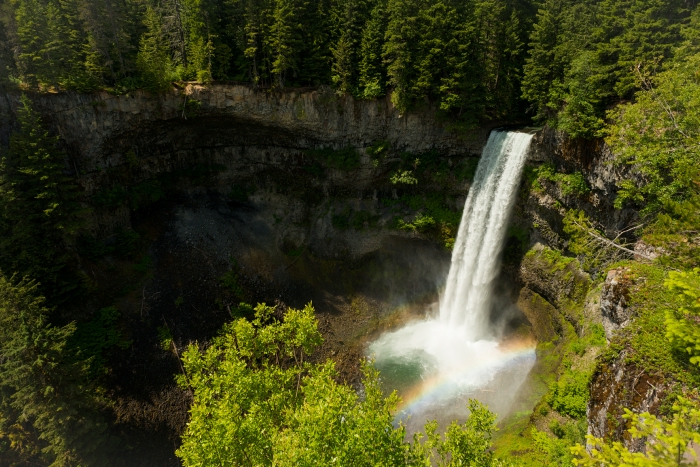 There are two amazing waterfalls on the Sea to Sky Highway between Vancouver and Whistler - Shannon Falls & Brandywine Falls.
Shannon Falls, British Columbia's third highest waterfall, lies two kilometers south of Squamish.  The Falls are part of Shannon Falls Provincial Park and are easily accessed from the highway and almost impossible to miss rising up from the Howe Sound on the right-hand side before you enter Squamish. The Falls are 335 meters high and an impressive picnic stop on the way to Whistler. There is a well-maintained network of trails that allow you to easily explore the base of the Falls.
Another popular stopping point can be found at Brandywine Falls Provincial Park, 47 kilometers north of Squamish. Here there is a short 10-20 minute hike to a viewing platform of the 70-meter waterfalls. The trail starts from the parking lot and crosses a covered wooden bridge. After crossing the river, head right, just 500m (1640 feet), crossing train tracks along the way, until you reach the platform overlooking the magnificent view of the waterfall. The falls itself drops approximately 70m and the surrounding cavern features rockslides that have crumbled from the walls over hundreds of years. The trail continues a short distance past the platform for a view of Daisy Lake.
THE BRITANNIA BEACH MUSEUM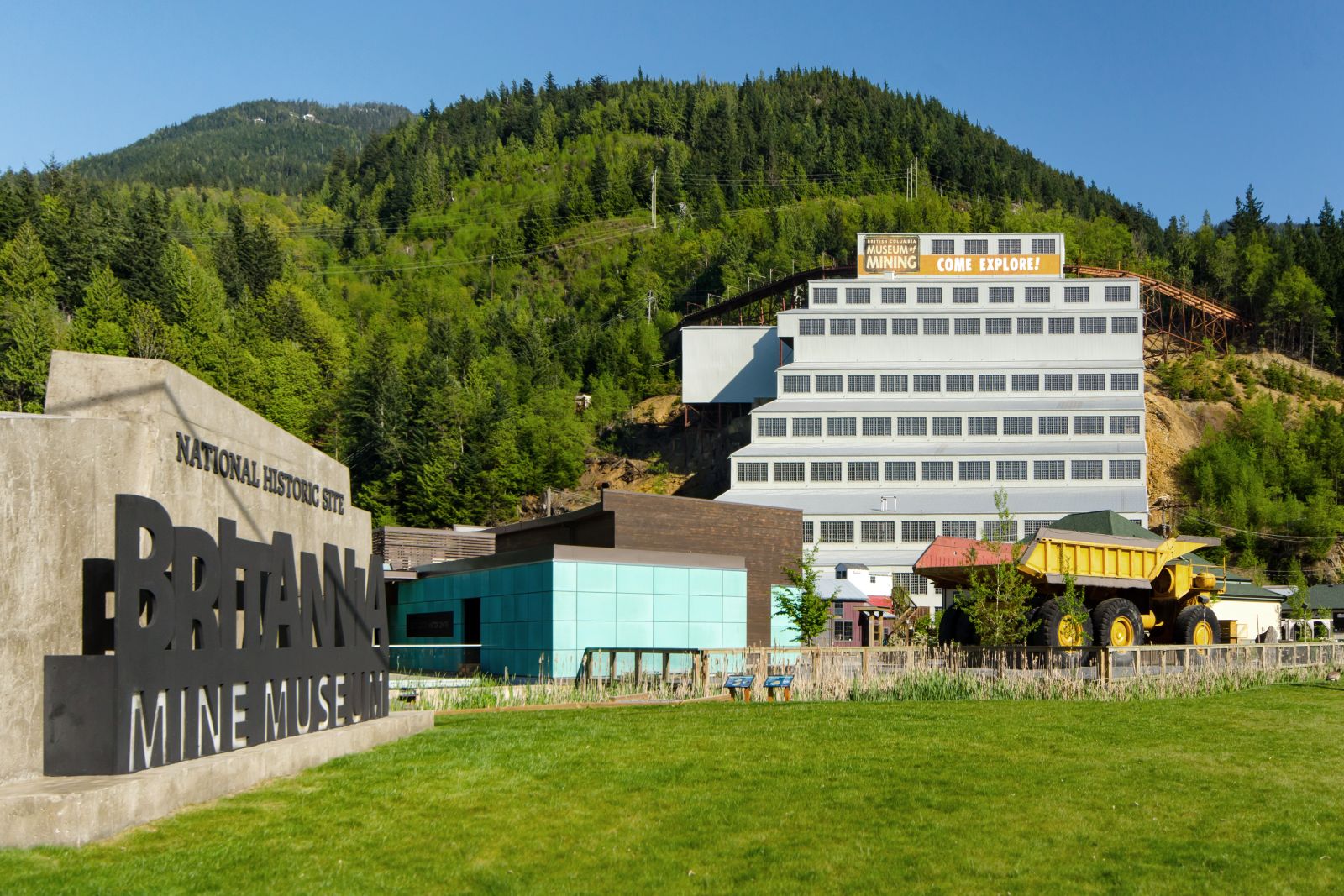 The Britania Beach Museum is only 45 minutes away from North Vancouver and a great stop for those who wish to learn about the material and social history of mining in British Columbia. You can enjoy some refreshment in their cafe, which is also home to the museum's collection of autographed photos, chronicling the history of films and TV shows filmed on our site including The Flash, Supernatural, The X Files, and 21 Jump Street. There is also a gift shop with jewelry, books, giftware, toys and artisan pieces. 
THE SEA TO SKY GONDOLA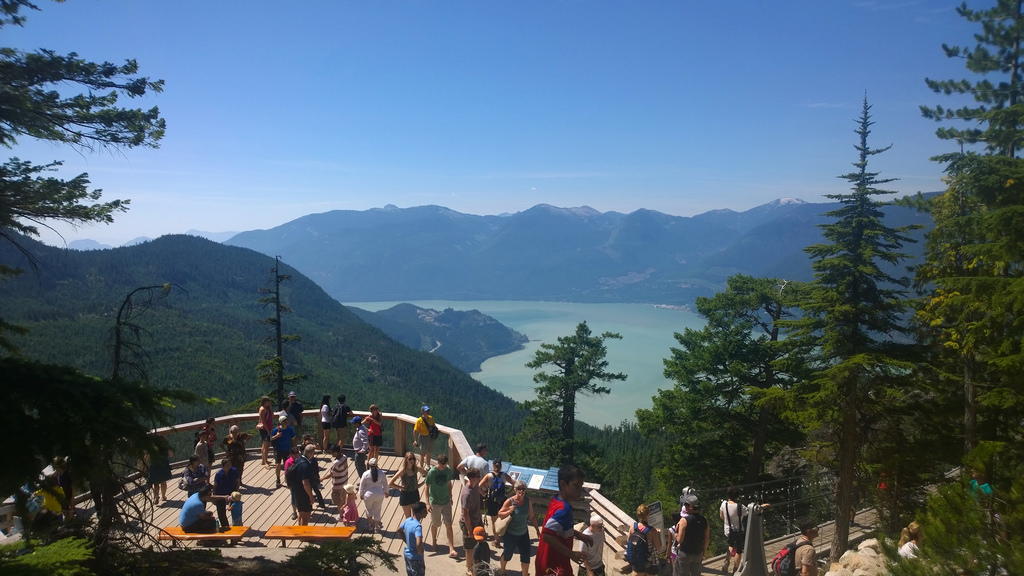 Stopping at the Sea to Sky Gondola is a great way of breaking the trip. The entire gondola ride takes 10 minutes to 885m above Howe Sound. Each gondola is wheelchair and stroller accessible and up to 8 guests can fit into each. The ride itself provides sweeping views of the green waters of Howe Sound, the majestic coastal forest, and surrounding mountain and once you reach the top, you will have access to a wide array of outdoor experiences including two different interpretive loop walking trails with cantilevered viewing platforms, the spectacular Sky Pilot Suspension Bridge, numerous hiking trails, rock climbing, access trails to backcountry routes, a restaurant, and much more.
CHECK OUT MORE INFO AND OPERATION HOURS
DRIVING IN BRITISH COLUMBIA
Driving across B.C. is popular with travelers all over the World. This is why each driver is expected to get to know the responsibilities and rules they need to follow as these will likely be different from what they are used to in their own country. The saying "Ignorance of The Law Is No Excuse" definitely applies in this case. 
You must have a valid driver's license.
The vehicle you are driving must be licensed and insured.
You must know and follow the RULES OF THE ROAD
In Canada, people drive on the right side of the road.
You must respect the rights of cyclists and pedestrians (people walking). You must stop for pedestrians crossing the street.
You must respect the rights of other drivers.
You must not leave young children alone in a car.
You may not drive while under the influence of any substance, such as alcohol or drugs, which limit your ability to control your vehicle.
You must pay attention to traffic and road conditions.
You may not use a cell phone unless it is a hands-free device.DRIVING FROM VANCOUVER TO WHISTLER
PREPARING FOR THE ROAD
The seasonal driving conditions change on the Sea to Sky Highway more than you would expect. Winter driving can be fun and scenic on a crisp & dry day but once the snow starts to fall, the visibility and road conditions can get pretty challenging. Being prepared for winter driving especially is an absolute must, not an option. 
MAKE SURE YOU FOLLOW THE TIRE & CHAIN REQUIREMENTS (compulsory between Oct 1st - Mar 31st)
REVIEW THE MOTOR VEHICLE SAFETY RULES
CHECK REAL TIME ROAD CONDITIONS
CROSSING THE BORDER?
WILDLIFE ON THE ROAD
Wildlife collisions on the road are not the only concern for wildlife but they put people at risk as well. According to the Wildlife Collision Prevention Program, over 10,000 wildlife vehicle collisions occur every year in BC, resulting in approximately 570 personal injuries and 3 fatalities. We encourage all drivers to follow all of the below essential guidelines to help reduce wildlife collisions:
Drive defensively and concentrate on the road at all times. Watch the sides of the road for wildlife attempting to cross, especially where visibility is poor (at bends in the road, or where the forest comes close to the road). Use extra caution at night; bears are dark animals and are very difficult to see in the dark, or even at dusk and dawn. 
Watch for signs that have been posted in high wildlife collision zones and slow down.
If you see wildlife on the road:
Slow Down – collision avoidance and driver response time are improved at slower speeds.
Anticipate unpredictable behaviour from all wildlife; as well as other vehicles on the road.
Try to determine what the animal is doing and where it might go.
Some animals travel in groups- where there is one animal, there may be more. Watch for bear sow/cub or doe/fawn pairs, as well as entire herds of animals such as elk and bighorn sheep.
NEVER stop to view wildlife. This stresses wildlife and creates unsafe road conditions due to traffic congestion.
If you hit or see a dead animal on the road:
Call the police if there are any human injuries or significant damage to your vehicle. Inspect your vehicle to see if it is safe to continue driving.
Call the local wildlife agency if there is a dead animal to report. In BC, call the Conservation Officer Service at 1.877.952.7277
If you have injured an animal, please call a rescue service for help, especially if a mother's offspring has been orphaned in the accident.
CONTACT BC WILDLIFE RESCUE ASSOCIATION
CONTACT US WILDLIFE RESCUE ASSOCIATION
PREPARE TO GET AMAZED AND STAY SAFE!
Photo Credit: Mike Crane