July 13, 2019 - 10:00
Challenge yourself in one of the most creative speed and endurance races in Whistler! 
Every year, Red Bull hosts a race that challenges runners like no other. The entire race is only 400 metres, but starts at the bottom of an Olympic ski jump, and finishes at the top. The race is the true test of a runner's hill climbing ability. Those grueling 400 metres put the runner on a 37 degree incline towards the end of the race, which is a serious challenge for any endurance athlete. You can take on the 400 metres solo or you can compete in teams during the relay portion of the race. Without a doubt, the Redbull 400 is one of the best ways in Whistler to test both speed and endurance.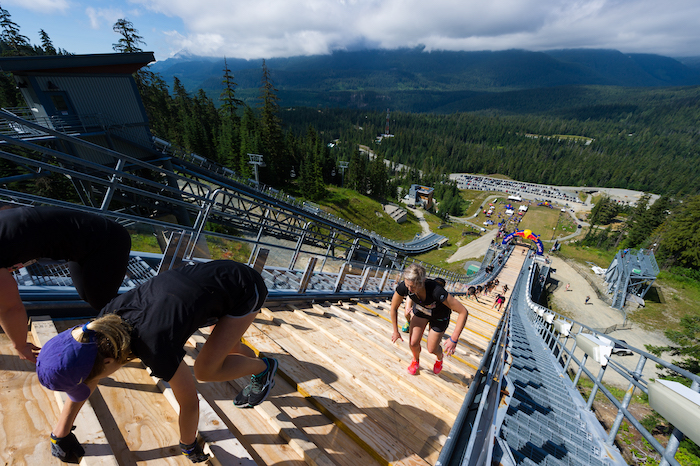 The results of the race are usually posted soon after its completion, and the solo winners receive $1000 CAD each. All participants will receive lunch, a drink ticket, a Red Bull racing jersey, and other schwag. And if you don't plan on participating, don't worry! Spectators are allowed on the ski jump in certain locations to watch the hilarious sight of runners sprinting up the jump, huffing and puffing. The race is a perfect way to spend an afternoon during your stay in Whistler!
The Whistler Red Bull 400 race is held at the Whistler Olympic Park outside of downtown Whistler. The 2019 iteration of the race will take place on July 13.