Blackcomb Peaks has 6 properties with a 3D interactive tour by Matterport. Each 3D video offers a dollhouse view, an interior view, and a floorplan view. This really helps guests get a feel for the vacation home's layout, so that you know exactly what to expect.
When viewing the 3D video, you can click the play button at the bottom of the screen to sit back and watch a room by room video of the property. Or you can use your mouse or computer keyboard arrows to walk first-person through the house. You can even check out the views from the patio or deck!

Click the dollhouse icon to get an aerial view of the property floorplan from above, or click the person icon to go back into the property first-person view. You can also view a full-screen version by clicking the box on the far right of the video.

You can even share the Matterport 3D video on your social channels or email the link to a friend. Just click the < icon at the bottom, and copy the direct link, or click the Facebook, Twitter, or email icons to share!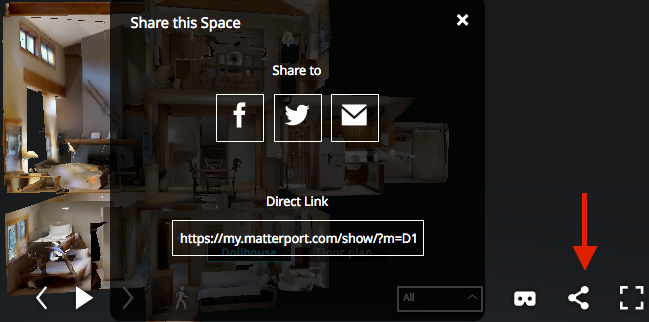 We hope you enjoy browsing the interactive videos below, and hopefully they help you choose which Whistler rental is the best fit for you!
Matterport 3D Interactive Videos