October 7, 2022 - 09:30

to

October 10, 2022 - 09:30

In Canada, Thanksgiving Day is the second Monday of every October, but Canadians enjoy the holiday throughout the long weekend. Family and friends visiting Whistler over the long Thanksgiving weekend can celebrate with a number of fall activities, family-friendly entertainment in Whistler Village, pre-season sales on winter gear, and of course, traditional Thanksgiving feasts.

The natural beauty of the area combined with the excitement for winter as the snowline appears further down the mountain makes Whistler the perfect destination to spend this holiday weekend. Off-season rates on Whistler accommodations are still in effect at this time of year, and minimum night stays are shorter, so this is one of the more affordable times to visit Whistler as well. Use the search box at the right to find your Thanksgiving rental. 

Fun Fact: 
(In the U.S. many argue (unsuccessfully) that Christmas decorations shouldn't go up until after Thanksgiving, but here in Canada, there is no such barrier. The lights and wreaths start showing up the day after Halloween, if not before.)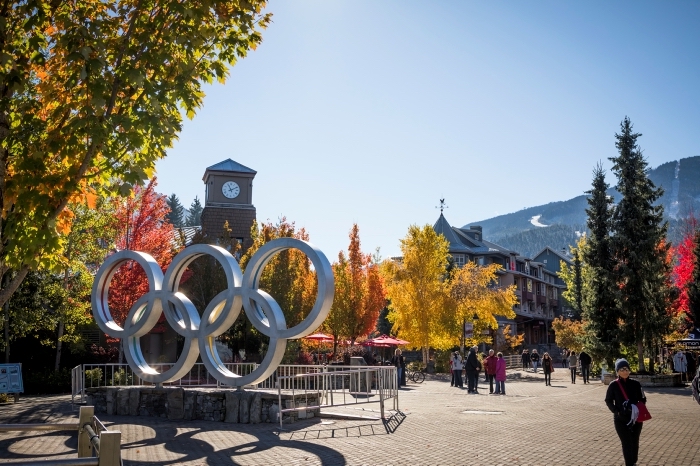 Fall Activities & Area Happenings
Fall is a beautiful time of year to visit Whistler! The air is crisp and the leaves are beginning to turn shades of red and gold. For many Canadians, a long walk in the outdoors is an annual Thanksgiving tradition. Some other activities not to miss include: 
Ride the Whistler Mountain Bike Park - Monday October 14th is the last day the Whistler Mountain Bike Park will be open for the season. Ride and experience one of the best mountain bike parks in the World! There are trails to suit all ability levels.  Bike rentals and gear are available at a number of stores throughout the Village.
PEAK 2 PEAK Gondola - Take in the fall colors and breathtaking Whistler scenery with a family gondola ride. 
Last Round of Golf for the Season - This is also the last weekend that the Whistler golf courses will be open for the season. Experience world-class courses at The Fairmont Chateau Whistler Golf Course, Nicklaus North or the Whistler Golf Club, all of which are open over the Thanksgiving Weekend.
Explore Whistler via the Valley Trail - The Valley Trail is a network of over 40kms of paved trail. The trails connect Whistler neighborhoods, lakes and parks. You can bike, rollerblade, jog or just walk the trails. A perfect way to spend time with friends and family over Thanksgiving weekend.
Whistler Wine Walk - Explore Whistler's bustling gallery scene while sampling hors d'oeuvres and wines from BC wineries every Friday night in October. Each week, four public and private galleries offer a new taste of Whistler's eclectic cultural mix featuring local, regional, and international artists, and interactive art experiences.
Farmers Market
Enjoy a snack & the last Farmers' market of the season. Stock up on veggies for your Thanksgiving feast if you'll be cooking in your vacation rental, or just wander and take it all in. 
Get Ready for Winter
Do not miss great deals on snow gear at the legendary Whistler Blackcomb Turkey Sale. This is a mandatory event if you are in town for the weekend! Or get stoked for winter and attend the Return to Send'er Ski Movie Premier, by Matchstick Productions, located at the Rainbow Theatre. This is always a fun way to kick off the upcoming season!  
The Food
In general, the food served at American and Canadian Thanksgivings is fairly similar. Turkey is usually eaten for Thanksgiving in Canada, though some choose to eat ham, chicken, or other proteins. Turkey is usually accompanied by stuffing, sweet potatoes, corn, gravy, and fall veggies like squash. The classic dessert is always pumpkin pie. Prepare your meal during your stay in one of our fully equipped vacation rentals or book a meal at one of Whistler's many restaurants. Most Whistler restaurants feature special menus throughout the weekend. 
The Sports
Like in the US, many Canadians watch football on Thanksgiving. The Canadian Football League hosts the Thanksgiving Day Classic, a double header that airs on national TV. Start a fire in the fireplace, kick back, and enjoy a cozy day in Whistler from our of our many condos and townhomes. 
*Pumpkins and Whistler Olympic rings photos by Tourism Whistler / Just Jeskova
**Banner image at top by Tourism Whistler / Mike Crane